The Best Smartphones with 3.5-mm Headphone Jack
A requirement for audio enthusiasts and a very useful feature for most other users: the 3.5-mm headphone jack is a defining feature on smartphones. Especially if you recently purchased an expensive high-quality headset with 3.5-mm audio connector you are not going to be too thrilled if your new smartphone lacks the proper connection.
Unfortunately, many OEMs seem to view things quite a bit differently, and instead prefer to utilize the space inside the case for larger batteries or additional features. Instead of adding a dedicated 3.5-mm headphone jack they add audio output functionality to the already existing USB-C port in order to continue supporting analog audio equipment such as headsets or headphones. The fact that not all users will be excited to carry around yet another piece of equipment – one that can get lost quite easily and causes audio quality to suffer to boot – is lost on most OEMs.
Therefore, we decided to compile this list of our view on the best smartphones with dedicated 3.5-mm headphone jack. It features smartphones from both the sub $500 range, where you are much more likely to encounter a dedicated audio port, and much costlier devices where headphone jacks have become a rare and almost exclusive feature.
Note: the prices on which our recommendations and ratings are based are the best street price at the time the review in question was last edited. The prices listed in the table below as well as in the price compare sections underneath each individual device are the current street price and fluctuate almost daily.
With the February 2020 update we consolidated the two lists, one for affordable and one for expensive devices, into a single top 10 list.
The Best Smartphones with Headphone Jack
Pos.

Rating

Date

Image

Model

Height

Weight

Size

Resolution

OS

Best Price

1

87 %

07/2019

Samsung Galaxy S10 5G
Samsung Exynos 9820
ARM Mali-G76 MP12
8 GB Memory, 256 GB UFS 2.1
7.9 mm
198 g
6.7"
3040x1440
Android 9.0 Pie
2

87 %

12/2019

Asus ROG Phone 2
Qualcomm Snapdragon 855+ / 855 Plus
Qualcomm Adreno 640
12 GB Memory, 512 GB
9.48 mm
240 g
6.59"
2340x1080
Android 9.0 Pie
3

86 %

07/2020

Xiaomi Poco F2 Pro
Qualcomm Snapdragon 865
Qualcomm Adreno 650
6 GB Memory, 128 GB
8.9 mm
219 g
6.67"
2400x1080
Android 10
4

86 %

05/2019

Huawei P30
HiSilicon Kirin 980
ARM Mali-G76 MP10
6 GB Memory, 128 GB UFS 2.1
7.57 mm
165 g
6.1"
2340x1080
Android 9.0 Pie
5

86 %

07/2019

Asus ZenFone 6 ZS630KL
Qualcomm Snapdragon 855
Qualcomm Adreno 640
6 GB Memory, 128 GB UFS 2.1
9.2 mm
190 g
6.4"
2340x1080
Android 9.0 Pie
6

86 %

09/2020
neu!

Motorola Edge Plus
Qualcomm Snapdragon 865
Qualcomm Adreno 650
12 GB Memory, 256 GB
9.6 mm
203 g
6.7"
2340x1080
Android 10
7

85 %

06/2020

Xiaomi Black Shark 3 Pro
Qualcomm Snapdragon 865
Qualcomm Adreno 650
12 GB Memory, 256 GB
10.1 mm
253 g
7.1"
3120x1440
Android 10
8

85 %

09/2020
neu!

Sony Xperia 1 II
Qualcomm Snapdragon 865
Qualcomm Adreno 650
8 GB Memory, 256 GB
7.6 mm
181.4 g
6.5"
3840x1644
Android 10
9

85 %

07/2020

LG Velvet
Qualcomm Snapdragon 765G
Qualcomm Adreno 620
6 GB Memory, 128 GB UFS 2.1
7.85 mm
180 g
6.8"
2460x1080
Android 10
10

84 %

08/2020

Xiaomi Mi 10 Lite 5G
Qualcomm Snapdragon 765G
Qualcomm Adreno 620
6 GB Memory, 128 GB UFS 2.1
7.9 mm
192 g
6.57"
2340x1080
Android 10
1st – Samsung Galaxy S10 5G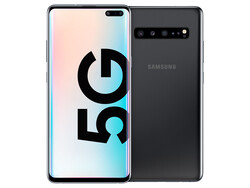 The Samsung Galaxy S10 5G not only features a dedicated 5G modem but also the largest battery and, at 6.7-inches, the largest AMLOED display of Samsung's current Galaxy S series. Otherwise, it is very similar to the other devices except for the cameras that received a minor update when compared to the S10 and now feature an additional 3D sensor both front and back. 8 GB of RAM and 256 GB of storage space are adequate for its class. Unfortunately, the latter cannot be expanded via microSD. In addition, the S10 5G is only available with a single SIM slot.
If you want to be prepared for the future without leaving the 3.5-mm headphone jack behind can do no wrong with the Galaxy S10 5G.
If you can live with those last two issues you get the best S10-series smartphone with the longest battery life in return.
We suspect that the S10 generation will be Samsung's final high-end smartphone series with a 3.5-mm headphone jack. The Note 10 already lacks this feature, and rumor has it that the S11 is not going to include one either.
2nd – Asus ROG Phone 2
Wired headsets are particularly popular among gamers where low-latency audio is of major importance. Accordingly, the ROG Phone 2 features a 3.5-mm headphone jack for connecting headsets or headphones.
The Asus ROG Phone 2 is a great albeit quite heavy package.
Thanks to its fast Snapdragon 855+ and a ginormous 12 GB of RAM the device performed incredibly well. It also offers a large battery that managed to run for 14 hours in our Wi-Fi test. An external fan is tasked with keeping surface temperatures in check, and freely configurable trigger buttons enhance the gaming experience even further. A 120 Hz display for smooth gaming is a must.
Depending on SKU the ROG Phone 2 can get pretty pricey. Compromises you have to make include its high weight as well as the lack of IP certification against ingress of dust and water that has become customary in this price range.
3rd – Xiaomi Poco F2 Pro
The Xiaomi Poco F2 Pro is much more expensive than its predecessor, which turned out to be a great bargain. Nevertheless, you get a lot for less than 500 Euros: great performance decent battery life, a fast and bright OLED display, and a decent speaker.
The affordable Xiaomi smartphone comes with a 60 Hz display, which turned out to be its biggest limitation when compared to real flagship devices. Once you get used to the smooth scrolling and handling of a 90 Hz display it is hard to look back.
If you are looking for high-end performance and a 3.5-mm headphone jack the Xiaomi Poco F2 Pro is hard to ignore.
Another limitation is the Poco F2 Pro's mediocre camera, which lacks a telephoto lens and features a somewhat poor ultra-wide angle camera.
4th – Huawei P30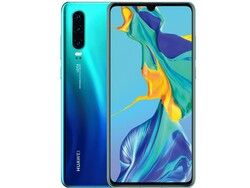 The Huawei P30 features a triple-lens camera made by Leica comprised of a main lens, a secondary ultra wide angle lens, and a tertiary telephoto lens. The latter offers 3x optical zoom capabilities and optical image stabilization. The main camera's 40 MP Sensor uses pixel binning to improve low-light photo quality.
The Huawei P30 is worth its price and comes with only minor flaws.
In our review we particularly liked the device's great photo quality and the multitude of settings and options. It also offered a high level of system performance, long battery life, and of course a 3.5-mm headphone jack.
5th – Asus ZenFone 6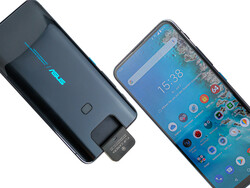 The Asus ZenFone 6 might not be best of the best in all regards, but it offers a great price-performance ratio in return. At around $500 you get a notch-less 6.4-inch IPS display with a native resolution of 2340 x 1080 and a very high display to body ratio. The camera swivels out from the back and not only supports face unlocking but takes great selfies to boot. The low-end SKU already features 6 GB of RAM and 128 GB of storage that can be further expanded via microSD. Another highlight is without a doubt its large 5,000 mAh battery.
Hard to find but worth the effort. The affordable Asus ZenFone 6 offers a lot for its money.
Although we liked the device overall we should note that its low price requires a few compromises. For example, the ZenFone 6 is neither IP certified nor does it support wireless charging, VoLTE, or Wi-Fi calling. It is sold exclusively through the Asus eShop.
Pricecompare
6th – Motorola Edge Plus
Motorola's re-entry into the high-end world of smartphones left us undecided. On the one hand we liked the case design, and its communication technology is among the best currently available. At the end of the day you get a true high-end smartphone with 3.5-mm headphone jack.
The Edge Plus is Motorola's first high-end smartphone in years. It is fast and offers long battery life but failed to score in all aspects we looked at.
On the other hand, it lacks numerous features we came to expect from expensive high-end smartphones these days. For example, it is not waterproof, it charges relatively slowly, and its speaker and sound quality in general was lacking. If, however, you fell in love with the design and are in the market for a fast smartphone with analog audio jack and decent battery life you might want to take a closer look at the Edge Plus.
Pricecompare
7th – Xiaomi Black Shark 3 Pro
Xiaomi's Black Shark 3 Pro gaming smartphone continues to include a 3.5-mm headphone jack, just like the Black Shark 3. The device offers a lot for its money – fast Wi-Fi, a 90 Hz display, high performance thanks to the latest Qualcomm flagship processor, and fast storage. Various accessories are also available, from coolers to magnetic charging cables.
The Black Shark 3 is a fast gaming smartphone with shoulder buttons and interesting accessories.
Dedicated shoulder buttons allow for easier gaming, as do stereo speakers. The latter might not be great but at least they are usable. Cut corners include support for wireless charging, an IP certification, and USB 3.0. In addition, the display only gets sufficiently bright with ambient light sensor enabled.
Pricecompare
8th – Sony Xperia 1 II
If you're looking for a slim and super-fast smartphone Sony is usually a decent go-to choice. High quality, a well-protected case, and its unique design were the first things we immediately noticed. In addition, this latest generation includes professional apps for photo and video editing. And last but not least it comes with a full-fledged 3.5-mm headphone jack for attaching analog microphones.
With its professional photo and video editing apps Sony's Xperia 1 II is clearly aimed at professionals. Everybody else will probably find its MSRP too high.
On the flip side it suffers from short battery life, a very slow SD card reader, and a somewhat dim display with an admittedly extremely high resolution. Its high MSRP of $1,200 make this a hard sale at full price, unless of course you're in it for the professional photo and video editing applications.
Pricecompare
9th – LG Velvet
The LG Velvet is supposed to be LG's barnstorming return to the mid-range smartphone market, and the Koreans did very well indeed. The device may be assertively priced but offers a very sleek and elegant case as well as features, that are usually only found on more expensive smartphones, such as an IP68 certification, wireless charging, or stereo speakers. The icing on the cake is the Velvet's ability to be installed in a dual-screen case, just like the LG G8X ThinQ.
The LG Velvet comes with a classy design and great features.
The main camera performed well in our test, however the remaining camera modules remained behind our expectations for a 600 Euro smartphone. The device supports 5G connectivity and features a Snapdragon 765G with plenty of oomph, albeit it is nowhere near the current top dogs. All things considered this smartphone is an interesting alternative for users looking for a classy and somewhat uncommon smartphone with 3.5-mm headphone jack.
Pricecompare
10th – Xiaomi Mi 10 Lite 5G
If you include Xiaomi's Redmi and Poco brands the Chinese manufacturer tends to release a huge variety of devices year after year. To make matters worse and add an extra level of confusion many devices carry different names in Asia and the rest of the world. If you are looking for a powerful smartphone with 3.5-mm headphone jack and are on a budget, then maybe the Xiaomi Mi 10 Lite 5G may be worth a closer look. It offers long battery life, fast Wi-Fi, a decent build quality, and a reasonably bright and fairly color-accurate OLED display.
The Xiaomi Mi 10 Lite 5G is a great offer with plenty of mid-range performance.
The main camera came as a positive surprise in normal light. In low-light situations it made itself known as the mid-range shooter it really is. A 90 Hz display is also not available, and the number of supported LTE frequencies is fairly low.
Nevertheless, the smartphone remains a great offer in its price range.
Pricecompare
Verdict
High-end smartphones with 3.5-mm headphone jack may be a dying breed, but they are not quite dead yet. Affordable devices tend to be dominated by older flagship and high-end smartphones that dropped in price over time.
Even though current mid-range devices still tend to feature a dedicated 3.5-mm headphone jack and some OEMs such as LG even go above and beyond to ensure great analog audio quality we do expect the headphone jack to all but disappear in the next few years.