TSMC reveals details on Fab 14B production incident, estimates considerable losses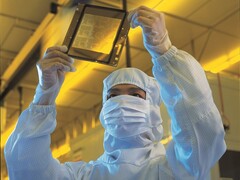 It took TSMC a little over two weeks to fully assess the consequences of the Fab 14B incident. Apparently, the chemical contamination was triggered by an abnormal reaction in the photoresistant material that led to a polymer residue compromising up to 30,000 of 12 nm and 16 nm wafers. Total losses are estimated around US$550 million, but TSMC intends to ramp up production in Q2 to mitigate part of the losses.
Working For Notebookcheck
Are you a techie who knows how to write? Then join our Team! Especially English native speakers welcome!
Currently wanted:
News and Editorial Editor - Details here

Back in late January, the Chinese media was reporting on a chemical contamination that affected thousands of 12 nm and 16 nm wafers at TSMC's Fab 14B. Shortly after, TSMC officials stated that an investigation was to be conducted in the following weeks in order to assess the damages. This investigation lasted for about two weeks and TSMC recently revealed some more details about the incident and the impact it has on the expected Q1 profits.

Regarding the chemical contamination, TSMC further explained that certain photoresistant materials reacted abnormally and created a polymer residue that compromised entire batches of wafers. The contamination was unfortunately detected too late, as TSMC noticed lower-than-expected yields. The company has not yet revealed the exact number of affected wafers, but the Chinese media has reason to believe that the initial 10,000 estimates may actually turn out to be close to 30,000. Moreover, TSMC did not disclose any customers that might have been affected by this incident, while media sources cited companies like HiSilicon/Huawei, Nvidia and MediaTek. However, TSMC did disclose that new delivery schedules have already been negotiated with the affected customers.

TSMC also calculated that the compromised wafers represent US$550 million scraped from the projected Q1 revenues. As a damage control measure, TSMC promised that it will supplement the manufacturing of additional wafers in Q2 to make up for the losses, and this should bring an additional US$230 million, so the Q1 revenues would only amount to US$7 – 7.1 billion, down from US$7.3 – 7.4 billion.

In order to avoid such incidents as much as possible in the future, TSMC specifically stated that it "has taken action to strengthen inline wafer inspection and tighten control of incoming material to deal with the increasing complexity of leading-edge technologies."