The Nintendo Switch is already pretty versatile as a gaming console, but what else can it do? People have had three years to develop apps and find interesting quirks with both the software and hardware. As a result, there's a lot to explore and plenty to do.
Let's take a look at some potential office applications of the Switch, as well as a few other uses that don't pertain to the core gaming functionality of the console.
Learn to program, make games, or play games
If you've heard about Dreams for the PlayStation 4, making games on a game console might not come as a surprise to you. However, the Switch has some apps that provide aspiring game developers with the tools to make games. On the eShop, there are two apps (at the time of writing) that you can use to learn some programming, and even make some games.
The most feature-filled is FUZE4, an extensive game creation suite available on the Nintendo Switch for $19.99. With that, you get access to the over 10,000 provided assets to make your games. FUZE4 allows you to produce original music and sounds with its built-in synthesizer, and it also has an editor for images and sprites.
If you're new to programming, the app includes tutorials and guides to help you along. If you're already a seasoned programmer, the language used is very similar to BASIC but with some tweaks to make it "more flexible". Both 3D and 2D games are possible in FUZE4, so if you're looking to give programming a try, it might be worth checking it out. Even if you don't want to make games, there's a community of creators who are making them, and you can get their games from the community at fuzearena.com.
Another option is SmileBASIC 4. While FUZE4 is roughly 3.7 GB in size with tons of assets and 3D capability, SmileBASIC 4 is only 132 MB and doesn't seem to support 3D as well or make it as easy to use 3D as FUZE4 does. SmileBASIC 4 uses a language very similar to BASIC, but it is modified in certain ways. However, at $24.99 the value compared to FUZE4 is almost completely lost, especially considering you need to buy a $5 "server key" to download more than one game every 8 hours.
Both of these apps support USB keyboards, so rest assured that any programming won't need to be done on the touchscreen.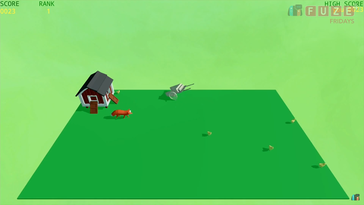 Make your own music
KORG, the maker of KORG Gadget 2 for iOS and macOS, released a version of its music creation software for the Nintendo Switch. KORG Gadget for Nintendo Switch includes 16 "gadget instruments" for use in your music, including some developed in partnership with Bandai Namco Studios (the game development studio at Bandai Namco Entertainment).
The Joy-Cons themselves can be used as input devices while making music, such as turning the Joy-Con to turn a knob. In addition to that, you can have up to four users working on the same track at the same time by either using their own controller or connecting over the internet via their own console (and additional copy of the software).
At $48.00, KORG Gadget is one of the more expensive apps on the eShop. However, if you're interested in making your own original songs but only have a Switch, this might be a tempting option for you. KORG produced its own set of demo songs with the Nintendo Switch, which you can check out here.
Of course, there is always the Nintendo LABO Variety Kit, which includes the cardboard piano. You can use that to make music with custom waveforms, as well as play with the other features of the kit. At $69.99 it's quite pricey, especially if you're only looking to produce some jams for fun and nothing else, but it's an option worth considering nevertheless.

Create your own artwork...?
While the core functionality of Coloring Book is for, well, coloring in coloring book pages, this app has a "Whiteboard" section. This gives you a blank canvas to draw whatever you want using all the tools from the app. However, some core features seem to be missing (such as Undo, which got frustrating rather quickly).
Plus, drawing inputs aren't always registered. Strokes often fall behind your finger while drawing, making this app far from ideal for any serious linework or painting. This is certainly far less usable for drawing than the Game Notes applet on the Nintendo 3DS.
However, Coloring Book is free on the eShop. If you want to scribble or just feel like filling out some coloring book pages to kill some time, give it a shot.
Movies, TV, and YouTube
If you own a Switch, you likely know about these apps already. However, for those who haven't dug around too much on the eShop, both Hulu and YouTube have their own apps.
The YouTube app can be controlled by your phone while the device is docked, making it easy to watch whatever YouTube content you want. Plus, you can flip the kickstand out and watch some videos at 720p when sitting at a table, or even lying in bed.
The Hulu app works exactly as it does on any streaming device, controlled with the Joy-Cons. The app is pretty much as good as the Hulu app on any Smart TV or Android TV-based streaming device. Unfortunately, you won't be able to play games on the Switch during the ads on Hulu if you're streaming shows with it.
Web Browsing and Office use
The Switch has a basic web browser buried in the software, which (with some simple tweaks) can be used to do all kinds of basic web tasks. However, the web browser is very restricted in terms of features.
There are many things you can do from within the browser. For instance, I was able to browse Reddit (using old.reddit.com), check my emails via Gmail (using the legacy HTML-only view), browse Amazon, and even look things up on Wikipedia.
I was also able to send a tweet and browse Twitter through the browser, albeit through the mobile view. There's no way (that I could find, at least) to manually switch to the desktop view, but let me know in the comments if you can find one.
If you weren't impressed by the Coloring Book app from earlier, kleki.com is a pretty feature-filled drawing app you can use through the web browser. It's certainly a lot more usable, and it's still free. Plus, you can upload your drawings from within the app to Imgur and download them on your phone or computer.
However, there are a lot of things you simply can't do in the browser. A lot of modern web apps (such as the Google Drive suite) simply don't work. You also can't stream Netflix, YouTube, or even Twitch live streams from the browser. I was unable to get Facebook to work properly either. I also tried Discord, but the app fails to load due to an incompatibility with Discord's SSL certificate authority.
It's worth noting that you can use your keyboard with this browser (but not a mouse). If you're struggling with the touchscreen, just dock your console and plug a keyboard into the dock. Simple writing apps will likely work, but intensive online IDEs (such as JSFiddle) will be slow, unreliable, or fail to load.
If you'd like to give the browser a try, you can follow the official SwitchBru DNS guide to get it set up on your Switch. To try it out, I'd recommend loading up an app that needs the internet (like Hulu or YouTube) to trigger the popup, but you could always use the "Find Channels" button in the news applet if you're low on storage space. If you want to turn it off after using the browser, all you need to do is change your DNS back to automatic in Internet Settings.
Linux and Android
For those of you with older Nintendo Switches, you may be able to boot custom payloads on your console, including versions of Linux and Android. While it's possible to do these things, Nintendo does not encourage nor support this kind of use of the Switch. If you're not careful, you could face a loss of warranty, a hardware ID ban, or even a ban on your entire Nintendo account. Now that we have that out of the way, let's talk custom operating systems.
Before you can do anything involving homebrew on the Switch, you need to first check if your system is vulnerable to a certain hardware vulnerability. If you own a Switch Lite, there's no way to do this exploit. However, if you own a normal Nintendo Switch, you can at least check if your system should be vulnerable at ismyswitchpatched.com. Once you've checked there, you'll need the equipment described in this guide to execute the exploit. Nintendo can be particularly sensitive with people sharing the exact details of this vulnerability, so please check the guide for details.
On GBATemp, the switchroot team has released L4T Ubuntu for the Nintendo Switch, a version of NVIDIA's Linux for Tegra project specifically customized for running on the Nintendo Switch. For a full list of features, check the GBATemp thread linked earlier. With a 16 GB SD card and some time, you can turn your Switch into an almost fully functional Ubuntu tablet. There are some bugs, but pretty much all core functionality works. We might check out Linux gaming and the overall experience of Linux on the Switch in a future article. There's certainly a lot of potential for office use, such as using LibreOffice or Google Chrome.
If you're looking for something closer to an Android tablet experience, an unofficial port of Android 8.1 exists from Langer Hans on XDA Developers. The thread has a wealth of knowledge on all of the issues and features. While a lot works, many things are buggy or still don't function (such as charging indication). Like the Ubuntu project, this LineageOS port only requires a 16 GB microSD card for installation.
With this Android installation, you get access to all of the pleasures of Android, such as Android games and apps. However, this Android ROM is a lot less polished than the L4T Ubuntu installation mentioned earlier. If we check out L4T Ubuntu, we'll likely take a look at Android on the Switch in the same article.
Conclusion
The Nintendo Switch is a versatile piece of hardware, even if you don't want to touch DNS settings or run exploits. If you don't have a laptop and want to try out programming, the Switch might be a surprisingly good option for that. If you're interested in tweaking some settings, you could use the Nintendo Switch's browser (although it's hardly more useful than an old version of Internet Explorer). If you've got a capable Switch, you could even install Linux or Ubuntu on the handheld for an entirely new experience.
Is there anything you'd like us to test on the Nintendo Switch? Are there any other useful things the Switch can do without exploits? Let us know in the comments.
When I was 9, I tried to modify a PC game. The mod I made worked (mostly) and sparked my current, intense interest in software development. A few years later, that interest led me to experiment with all kinds of tech around the house, which has ultimately given me an eye for small, but substantial, problems in devices and software. I'm now writing articles about technology and its nuances for Notebookcheck.