Snapdragon W5+ Gen 1: 4 breakthrough ways it will define the future of Android wearables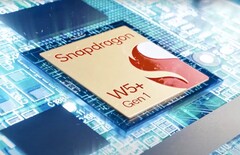 The choices and comments made on this list belong solely to the author.
1. Exemplary efficiency
The 4-nanometer hybrid architecture of the Snapdragon W5+ Gen 1 features a number of power-saving measures that are integrated directly onto the die, including a 22-nanometer AON co-processor that is ambient 95% of the time.
In addition to dedicated elements for the display and sensors, the new co-processor now drives audio and notifications, which helps to conserve power and lengthen battery life throughout the day. Other elements that have been offloaded to the co-processor to save power include health/fitness sensors such as the accelerometer, gyroscope, cardiac algorithms, and SpO2 monitoring.
Low-power islands have been integrated for Wi-Fi, audio, and GNSS connectivity. According to Qualcomm's tests, the low-power design of the Snapdragon W5+ Gen 1 can "extend battery life by 50 percent compared to previous generations".
2. Power that is twice as nice
Qualcomm claims that the Snapdragon W5+ Gen 1 is up to twice as fast as its previous 12-nanometer Wear 4100+ chip, packing in four A53 CPU cores each clocked at 1.7 GHz and two A702 GPU cores each clocked at 1 GHz.
The Snapdragon W5+ Gen 1 also features memory that is three times faster than the previous platform design. While the Wear 4100+ platform provided 1 x 32 LPDDR3 memory at 750 MHz, the new Snapdragon W5+ Gen 1 offers 1 X 16 LPDDR4 memory at 2133 MHz.
3. Fundamentally feature-rich
A promotional video included in the press release for the Snapdragon W5+ Gen 1 highlights the idea that the wearable-focused nature of the next-generation SoC will enable a host of incredible features for future Wear OS smartwatches, including responsive scrolling, 3D watch faces, 2-way video calling, real-time image recognition, and image-signal-processor (ISP) support for dual 16-megapixel cameras.
Qualcomm additionally touted an ambitious software integration made possible by the Snapdragon W5+ Gen 1 that would allow developers to configure watch faces that feature real-time maps app navigation.
4. Stunningly small size
The Snapdragon W5+ Gen 1 enables smartphone manufacturers to adopt smartwatch designs that are thinner, sleeker, and all-around smaller. Using what Qualcomm calls "highly integrated and innovative packing technologies" the company's engineers were able to shrink the overall SoC by 30%, the chipset by 35%, and the core PCB by an impressive 40%.
These architecture advancements allow the Snapdragon W5+ Gen 1 chip to take up less physical space in a device chassis, offering more room for other components such as batteries or cameras.
Self-proclaimed coffee connoisseur and tech enthusiast Brahm Shank is captivated by the impact of consumer tech: "It's profoundly moving when people discover that the phone in their pocket or the tiny computer on their wrist has the power to enrich their lives in ways they never imagined." Apple, Inc. and its unique position at the intersection of technology and the creative arts, resonates deeply with Brahm and his passion for helping people unleash their potential using technology. Over the years, Brahm has held various podcasts - including famed technologist David Pogue of The New York Times on topics such as Big Tech and digital wellness.