Shot on Galaxy S10+ Pro mode: Australian F1 GP Tesla Road Trip - Part 2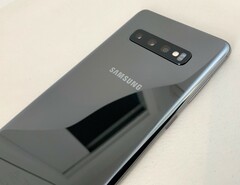 In the second instalment of this two-part Shot on Galaxy S10+ story, I've spent the last couple of days in Melbourne at the Albert Park Street Circuit and in around town. The Galaxy S10+ has proved to be a reliable companion with excellent battery life and the ability to take great shots in a range of conditions.
In the first part of this two-part Shot on Galaxy S10+ story, my brother and I made our way down to Melbourne, Australia from Sydney in his Tesla Model S. It was a fascinating experience making a 1,000 km journey in an electric car with a range of 380 km on a full charge. We stopped more than we needed to for shorter 20 minute top ups using Tesla's Supercharging stations placed at roughly 200 km intervals on our road trip. However, the more frequent stops undoubtedly made the journey more relaxing, but also safer as we took the opportunity to stay fresh so that we both remained more vigilant and alert while driving.

Melbourne is a wonderful city, very cosmopolitan with a somewhat European feel. The CBD features wide streets with wide footpaths that are pedestrian friendly, tree-lined streets with its famous tram network making getting around the town and outer suburbs, including the Albert Part F1 street circuit a snap. Another thing that sets it apart from other capital cities in Australia trees line most of the major streets in the CBD, giving a much more natural and laid back vibe compared. It is also famous for its cafes and Greek and Italian dining, and we made sure that we went out to the famous Lygon Street to hang out with the "Tifosi," as the Ferrari fans are known, after the race and for some fine Italian cuisine. There was also plenty of supercar porn on display as well, as you can see from the pics.

The Albert Park Street Circuit is only 3 km away from the Melbourne CBD. When it is not set up in a racing configuration, it is a popular place for "Melbournians" to visit for recreational activities including jogging, cycling, sailing and rowing. Families also like to visit it for having a barbecue or having a picnic. It is a picturesque setting and is a great place to hold an event like a Formula 1 Grand Prix. Not least of which is because Melbournians are absolutely sports crazy and have been at the track in record numbers this year. Interest in the race is high, particularly with Australian ace Daniel Ricciardo switching from Red Bull Racing to arch rivals Renault Racing.

In addition to the main event, which was a lot of fun to shoot on the Galaxy S10+, there is also a lot of other car candy on hand to shoot from the makers, as well as collector cars on display. I also took a short video of the race start from Turn 3 on the opening lap. It shows that the Galaxy S10+ has not only great photographic capabilities, but also great videographic capabilities. Sure, the Galaxy S10+ has its limitations, particularly noticeable in a night-time selfie where it struggled to focus in the differing skin tones of the subjects. But overall, it's a dependable and worthy as a flagship smartphone.

(For the record, Valtteri Bottas of Mercedes-AMG won the Australian F1 GP for 2019 with a commanding performance. Unfortunately, Australia's Daniel Ricciardo came unstuck in his Renault within the first 5 seconds of the race start hitting a footpath near the track edge after running a little wide to avoid a slow starting Sergio Perez in front of him. And the Tesla Model S, pictured in Part 1 of this series, was a superb companion on the road trip. Elon Musk has made a truly great car. It just also happens to be all electric.)
Full res versions of the photos embedded here (and additional shots) can be found at this link: https://photos.app.goo.gl/cXuqAhnqG3fBpZtm9
Working For Notebookcheck
Are you a techie who knows how to write? Then join our Team! Indian citizens welcome!
Currently wanted:
News and Editorial Editor - Details here