Scientists envision the optical computer - light and sound waves transformed into data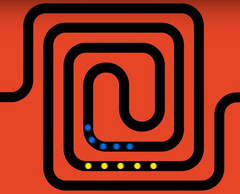 A group of researchers from the University of Sydney in Australia have developed a "photonic microchip" that converts light pulses into data, via sound waves. The chip does not produce any heat, it is immune to electromagnetic interference, and it's supposed to be 20 times faster than current CPUs.
Scientists are trying to come up with new and improved ways of data processing. All sorts of quantum computers have been in development over the last decades, and scientists even created a method that could eradicate counterfeiting based on quantum principles, but the promised performance boosts are not even close to being included in commercial releases. While many think the quantum computers represent the next step in improved data processing, some scientists explore alternative ways in which we can process and store data. The latest alternative example is presented by a group of researchers from the University of Sydney in Australia. They have envisioned an optical computer and recently published their paper "A chip-integrated coherent photonic-phononic memory" in the prestigious Nature journal.

The optic computer is based around processing data in the form of light photons, as opposed to electrons from electric currents. This way, the optical computer is not prone to heating, and is essentially immune to electromagnetic interference, using considerably less energy than current silicon-based CPUs. The scientists also claim the optical chip is 20 times faster than current processors.

Sound waves are also used in order to slow down the photons, so they can to be processed in a more manageable way. The photons are thus converted into sound waves using a "photonic microchip." Pulses of light interact with each other and create micro-vibrations inside the chip. The overall performance of the chip can be boosted by passing signals of different bandwidths at the same time.

This technology might not be integrated into commercial products any time soon, but it's always nice to explore alternatives to present-day data processing.