Samsung is working on foldable laptops as well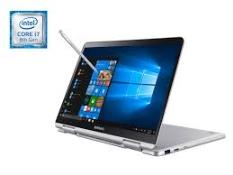 Lee Min-cheol, who works as a vice president at marketing in Samsung's PC division, stated that the Korean giant is indeed working on a laptop with a bendy display. This move, as Min-cheol claims, is intended to keep the notebook category relevant in an increasingly mobile-tech world.
There are those who believe that the laptop market is flagging in the face of increasingly powerful, portable smartphones and phablets. Samsung clearly thinks that its best solution is to offer these devices in new and innovative forms, in order to keep interest in the original mobile computer strong. To this end, the Korean company has confirmed that it is working on bendable displays for notebooks as well as phones such as the Galaxy X.
This statement has come via the vice-president of Samsung PC marketing, Lee Min-cheol. Speaking at an event for the release of a new, carrier-provisioned 13.3-inch display laptop called Flash in Korea, Min-cheol categorically confirmed that some of Samsung's laptops would come with flexible displays. These components are intended to bend both towards and away from a keyboard.
Min-cheol suggested that this move is intended to refresh the user-experience and use-case appeal of the general laptop product category. Finally, Samsung is also focusing on notebook-sized AMOLED panels. This may also keep the market going until customers have access to the bendy laptop of the future.