Samsung is about to mass-produce its 12GB LPDDR4X mobile DRAM module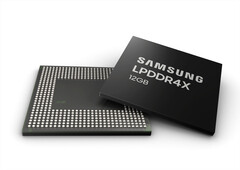 Samsung has announced that it is ready to start producing its highest-capacity RAM module for mobile devices. It has a 10-nanometer architecture and should deliver data speeds of up to 34.1 gigabytes (GB) per second. This 12GB low-power double data rate 4X (LPDDR4X) chipset is likely to be integrated into phones such as the Galaxy Fold.
Today, (March 14, 2019) Samsung has announced its plans to mass-produce its first 12GB RAM module for phones, tablets and similar devices. It is a low-power double-data rate 4X (or LPDDR4X) chipset that, according to the OEM, should maximize data-transfers while conserving power needs. This new component is to be made at the company's Pyeongtaek memory line, as part of a strategy to triple Samsung's high-capacity DRAM output during the second half of this year.
The 12GB LPDDR4X chipset has been created by combining 6 separate 16-gigabit (Gb) LPDDR4X chips into a 1x1 component that saves on surface area, thus leaving room in a device's internals for other parts such as the battery. The individual chips are based on Samsung's more up-to-date 10nm-class architecture. Together, they may result in data transfer rates of up to 34.1 gigabytes per second (GB/s).
The new high-cap DRAM is also designed to support total camera numbers greater than 5, increasing display sizes, AI demands and 5G requirements. In addition, it will also probably play well with the company's 512GB eUFS storage module. Accordingly, the entire component may see its debut as part of Samsung's first-generation foldable device. This phone, the Galaxy Fold, is also projected to be available in the next few months.