Samsung: Pictures of the glossy black version of the Galaxy S7 (edge) leak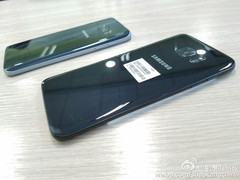 First it was just a rumor on Chinese Weibo but then a Samsung Manager posted pictures of the glossy black Samsung Galaxy S7 edge, making it very likely, that this color option will be available soon.
It all started with a rumor on Weibo a few days ago, but after a Samsung Manager posted pictures of the new glossy black colored Samsung Galaxy S7 edge on Weibo, it is more or less a done deal. Samsung is likely to release a new glossy black color option soon, most likely in early December just in time for the Christmas shopping season. According to the Weibo posting, the Galaxy S7 you can see on the pictures is a prototype model and features 128 GB of storage.
Samsung's intention behind this second new color option in the last months most likely is to adopt some of the success of the jet black version of the Apple iPhone 7 and iPhone 7 Plus, that is by far the most popular color option of the iPhone series. Just recently, Samsung released a blue coral option of the Galaxy S7 and Galaxy S7 edge. The Korean Herald reported, that this color option is very popular in Samsung's home market South Korea and sells more than 15,000 units each day.