Blue Coral Samsung Galaxy S7 Edge now official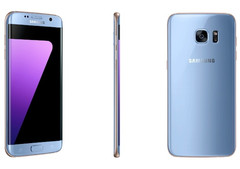 Initially scheduled to become available for the ill-fated Note 7 phablet, the Blue Coral finish is now ready for the Galaxy S7 Edge handset. The colors already available for this phone include white, silver, black, and two gold flavors (platinum and pink).
With Galaxy Note 7 dead and gone, the smaller Galaxy S7 Edge seems to grab all its glory now. The 5.5-inch handset is considered to be a large smartphone or even a phablet and, according to some recent "best of" rankings, many believe it is the best phablet of the year. Now, it also gets a color that was expected to cover the Note 7, and that is blue.
Starting today, Blue Coral is the sixth color option to choose from when picking a Galaxy S7 Edge. The other colors currently available are known as Black Onyx, Gold Platinum, Pink Gold, White Pearl, and Silver Titanium. The new option was inspired by nature, reveals Samsung, and "the color shimmers as if it is illuminated from the inside of the phone's glass surface."
Sadly, Samsung might not be able to deliver it to all markets this week. As revealed by the company, "specific availability details will be announced by each market's wireless providers and regional Samsung offices."