Samsung Galaxy S9 and S9+ available for pre-order through Microsoft's Store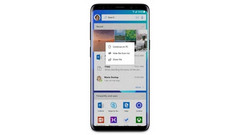 Microsoft is now offering the Samsung Galaxy S9 and S9+ for pre-order through its store. There have been reports that these are "Microsoft Editions" of the smartphones, which will operate on Android OS and will look identical to the flagship devices sold on Samsung's website. Microsoft's supposed customizations will come in the form of software additions, such as Cortana, Skype, Microsoft Launcher and apps from Office 365. However, it appears there is no such thing as a "Microsoft Edition" Galaxy flagship.
Microsoft and Samsung have supposedly teamed up before when it comes to customizing the South Korean's flagship devices. The Galaxy S8 "Microsoft Edition" offered services like Office, OneDrive, and Cortana, and it featured other well-known Microsoft products. However, Samsung later stated that there was no "Microsoft Edition" of the Galaxy products. But this minor detail hasn't stopped reports of the S9 and S9+ also receiving Microsoft customizations. Sadly, anyone inclined to purchase a "Microsoft Edition" of the new smartphones will have to accept these special devices are probably non-existent.
The latest versions of Samsung's high-end smartphones bought through the Microsoft Store will feature customizations that are apparently activated when the device is first connected to Wi-Fi (they are not preinstalled). This will then give the user access to Cortana, Excel, Skype, OneNote, PowerPoint, Word, and Microsoft Launcher. The phone will use Android, not Windows 10 Mobile, as OS.
Unsurprisingly, Microsoft has not tinkered with the hardware; the devices still offer the same base specifications: Qualcomm MSM8998 Snapdragon 845, 12 MP Dual Pixel camera, and 64 GB of storage. The S9 comes with 4 GB RAM and has a 5.8-inch super AMOLED display, while the S9+ delivers 6 GB RAM and features a larger 6.2-inch super AMOLED screen.
Microsoft has advertised a shipping date of March 16, 2018 for the smartphones. The Samsung Galaxy S9 costs US$719.99 and the S9+ version costs US$839.99.