We've seen several reports wherein the Adreno 730 in the Snapdragon 8 Gen 1 has consistently outperformed the AMD RDNA 2-based Xclipse 920 GPU in the Exynos 2200. Now, we get to see how the Snapdragon 8 Gen 1 performs in comparison with the Apple A15 Bionic.
Dame Tech compared gaming performance between the Galaxy S22 Ultra with a Snapdragon 8 Gen 1 and the iPhone 13 Pro Max with the A15 Bionic in the popular title Genshin Impact. He played the game for 15 minutes at max settings at a 25 °C ambient temperature. Dame Tech notes that the Android version of the game was downloaded from the Galaxy Store as that version is apparently optimized for Samsung phones.
Right off the bat, we see that the iPhone 13 Pro Max is able to offer a near-consistent 60 fps experience while the Galaxy S22 Ultra struggles to reach 40 fps, and that too with regular dips sometimes as low as 26 fps. After 15 minutes of gaming, the Galaxy S22 Ultra's surface temperature was found to peak at 43.6 °C thought it was still comfortable to hold. The iPhone 13 Pro Max's temperature, on the other hand, went up to 44.6 °C and felt a tad hotter to hold compared to the Galaxy S22 Ultra.
Still, the iPhone 13 Pro Max with the A15 Bionic averaged 59.2 fps with only intermittent frame drops while the Galaxy S22 Ultra with its Snapdragon 8 Gen 1 had its fps plastered all over while managing an average of just about 33.5 fps. This is despite the S22 Ultra showing a GPU usage of 87.6% while the iPhone 13 Pro Max is able to work fine with 67.8% GPU usage.
Another important parameter to consider here is power consumption. The Galaxy S22 Ultra consumes 5 W in the test while the iPhone 13 Pro Max is able to perform better by sipping just 4.5 W.
Of course, a single gaming test isn't a holistic evaluation by any stretch. However, the performance deltas here are quite large, so it is likely that we will see similar performance in other such graphic-intensive loads as well.
Samsung has recently pushed out an OTA update for the Galaxy S22 Series that reportedly improves stability, but it is not clear at this point whether such large performance deficits can be compensated for with software updates alone.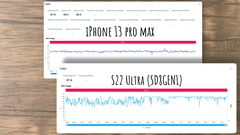 Though a cell and molecular biologist by training, I have been drawn towards computers from a very young age ever since I got my first PC in 1998. My passion for technology grew quite exponentially with the times, and it has been an incredible experience from being a much solicited source for tech advice and troubleshooting among family and friends to joining Notebookcheck in 2017 as a professional tech journalist. Now, I am a Lead Editor at Notebookcheck covering news and reviews encompassing a wide gamut of the technology landscape for Indian and global audiences. When I am not hunting for the next big story or taking complex measurements for reviews, you can find me unwinding to a nice read, listening to some soulful music, or trying out a new game.