Samsung Galaxy A53 5G and 3 other sub-US$450 phones that deliver in the photography department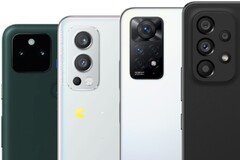 The choices and comments made on this list belong solely to the author.
1. Xiaomi Redmi Note 11 Pro 5G (under US$400)
Xiaomi's Redmi Note devices have long been present on lists of top budget phones. They offer great performance for very reasonable prices but often lagged behind their peers in camera performance. This started to change with the Redmi Note 9 Pro and the improvements only continued from there, leading to the Redmi Note 11 Pro. The substantial 108 MP, 1/1.52-inch main sensor with PDAF gathers loads of light, despite its high megapixel count.
While the main camera certainly delivers respectable results, the same cannot be said for the ultra-wide's unimpressive 8 MP sensor. The questionable 2 MP macro camera also exists, if you're into that.
Apart from the camera setup, the Note 11 Pro should be easy to live with for just about anyone. It is equipped with a 6.5-inch Super AMOLED display, 5000 mAh battery, and Snapdragon 695 5G chipset with 4, 6, or 8 GB of RAM - you should ignore the 4 GB model completely. The inclusion of a microSD card slot means you don't need to worry about buying the lowest spec, 64 GB model. A great option, especially if you like Xiaomi's image processing that tends towards face-smoothing and punchy visuals.
2. Samsung Galaxy A53 5G (or the A52s 5G if you want a headphone jack)
The Samsung Galaxy A53 5G (around US$350) is the successor to the hugely popular Galaxy A52. It continues the trend of providing solid camera hardware in conjunction with Samsung's solid image processing and full-featured camera app. The A53 5G features a 64 MP, 1/1.7-inch, optically stabilised main sensor, a 12 MP ultra-wide sensor, as well as a 2 MP macro and a 5 MP depth sensor - the last two should be ignored. The images from the main and ultra-wide are dependable, and the optical image stabilisation helps maintain clarity when using night mode.
Apart from cameras, the Galaxy A53 5G features a bright, 6.5-inch, 120 Hz Super AMOLED display, an under-display fingerprint scanner, and an Exynos 1280 SoC with 4, 6, or 8 GB of RAM. The equipment makes it a well-priced all-rounder that's quite potent in the camera department - as long as you again ignore the 4 GB RAM version.
If you are looking for a similar experience, but prefer the faster Qualcomm Snapdragon 778G 5G and a headphone jack, you should consider the Galaxy A52s. It has all the same camera hardware and general specs, except for a 4500-mAh battery instead of the 5000-mAh unit in the Galaxy A53 5G.
3. OnePlus Nord 2 5G (around US$400)
The OnePlus Nord 2 5G is part of OnePlus' return to the "flagship killer" roots that started the brand. It has a high-performance MediaTek Dimensity 1200 5G chipset, a 6.43-inch, 90 Hz Fluid AMOLED display, and a respectable 4500 mAh battery. While it lacks some features, like wireless charging, the Nord 2 5G delivers a relatively complete package in terms of general experience.
Looking at the camera system, the main attraction is the main sensor - a 1.56-inch, 50 MP sensor with PDAF and OIS. It delivers crisp, dependable photos, and particularly spectacular results with night mode. While the photos are impressive, they tend to look a little over-processed, especially when HDR is enabled - although technically less "correct," many people do seem to prefer a brighter photo with a little more contrast.
Something that is rare to find at this price range is 4K video recording with EIS - which the Nord 2 5G does offer. While it does feature an 8 MP ultra-wide camera, many report that it is less impressive - delivering softer photos than the main sensor.
You can also take your mobile videos to the next level with something like the Zhuyin SMOOTH-Q3 gimbal stabiliser, available at Amazon.
4. Google Pixel 5a with 5G (around US$449)
The Google Pixel lineup is known for impressive photography chops and consistent performance, thanks to Google's voodoo-like computational photography. The Google Pixel 5a with 5G is no different. Silly name aside, the Pixel 5a is a serious contender in the world of upper-midrange phone photography. It comes equipped with just two sensors: a 12 MP main sensor with OIS and dual-pixel PDAF and a 16 MP ultra-wide sensor.
If you're only going to use a dual-camera setup, this is the correct selection of lenses. It offers dependable camera performance, especially when combined with Google's Night Sight and other AI magic. If you want a low-fat Android phone that will let you whip it out of your pocket and capture the moment, no matter the situation, the Pixel 5a should be high on your list.
The Pixel 5a is only available in one model, featuring the Qualcomm Snapdragon 765G 5G SoC, 128 GB of non-upgradeable internal storage, and 6 GB of RAM. The platform will offer consistent performance, although it does miss out on a high-refresh display, offering only a 60 Hz, 6.34-inch OLED panel. Considering the price, you may want to look elsewhere - unless the Pixel UI and Google-specific camera updates and features are particularly compelling for you.
My interest in tech started in high school, rooting and flashing my Motorola Defy, but I really fell down the rabbit hole when I realised I could overclock the i7 930 in my Gigabyte pre-built PC. This tinkering addiction eventually lead me to study product design in university. I think tech should improve the lives of the people using it, no matter the field. I like to read and write about laptops, smartphones, software and trends in technology.