Budget photography: 4 free Photoshop alternatives for beginners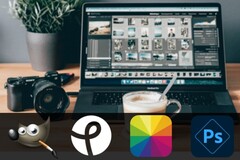 The choices and comments made on this list belong solely to the author.
1. Fotor
Fotor is a photo editing and graphic design suite for macOS, Windows, iOS, and Android. While there is a paid version, the free version gives you access to many of the essential photo-editing functions you'll need to make adjustments to your images or create some basic graphics. Fotor also supports RAW image editing, which is essential for anyone that wants to take image editing seriously.
Being a cut-down version of the paid editor, Fotor Free does come with ads, and a few features are locked behind an US$8.99 monthly subscription — though the free version does include features like a cloning tool, basic adjustment sliders, distortion correction, and batch editing. Overall, Fotor is a good place to start honing your basic photo-editing skills, if you can ignore the somewhat underwhelming user interface and lack of layers.
2. Pixlr X and Pixlr E
Pixlr — Pixlr X is a basic image editor, while Pixlr E is a more advanced version — is an image manipulation and graphic design suite that offers a relatively full-featured free version. As with Fotor, both Pixlr E and Pixlr X are ad-supported, with the paid subscriptions unlocking a number of additional features. Pixlr E is surprisingly powerful for a free, online editor — offering proper layer support, with different blending modes, an edit history, and solid RAW image adjustment options. The free templates that Pixlr provides for social media posts are a useful value add on top of all the other features mentioned previously.
Pixlr comes in a few flavours — there's a downloadable version for Windows systems, an Android version for editing on the go, and even a browser-based editor for anyone on Chrome OS, macOS, or Linux. Whether you're looking for a powerful editor or simply want a little more power than Microsoft's Photos app, Pixlr is a great way to go. The biggest issue with Pixlr is the lack of RAW support, which will be a deal-breaker if you're editing anything other than smartphone snaps.
3. Photoshop Express
Adobe's Photoshop Express serves as a perfect introduction to Adobe's photography suite — falling somewhere between traditional Photoshop and Lightroom, but not quite as good as either — by providing users with an accessible way to do a number of adjustments to RAW and JPEG images.
Unfortunately, Photoshop Express is not nearly as advanced as its paid sibling — with its most advanced feature being the Spot Healing brush — although, if you're the type to make small, meaningful changes rather than fantastical composite images, it'll do the job. Likewise, if you're already planning on jumping over to Adobe's premium suite further down the line as your skills develop, Photoshop Express isn't a bad start.
If you're looking for a graphics tablet for photo editing, the entry-level Huion Kamvas 12 is available on Amazon
4. GIMP and RawTherapee (there be dragons here)
GNU Image Manipulation Program (or GIMP for short), is an open-source image manipulation program with the capabilities of anything from 2022, but the user interface is of something from 1998. GIMP has full-featured layer support, a comprehensive range of brushes for painting, basic and sophisticated photo manipulation and retouching with sliders and masks, as well as file management features.
If you're averse to primitive-looking software with a steep learning curves, maybe you should give GIMP a miss. If you want pretty much all the power that Photoshop gives you (although without some of Adobe's special, cloud-based sauce), and don't mind a few minor growing pains along the way, GIMP is for you.
One important caveat about using GIMP is that in order to import RAW files, you need to install a RAW processor, like RawTherapee. RawTherapee is a powerful, open-source image-processing program, with tools galore to help you get the best edits possible. As with GIMP, RawTherapee isn't winning any prizes for the user experience anytime soon, with some options buried in menus within tabs. Still, RawTherapee gets the job done if you're looking for something extra-powerful and don't mind spending a little time getting to know your software.
My interest in tech started in high school, rooting and flashing my Motorola Defy, but I really fell down the rabbit hole when I realised I could overclock the i7 930 in my Gigabyte pre-built PC. This tinkering addiction eventually lead me to study product design in university. I think tech should improve the lives of the people using it, no matter the field. I like to read and write about laptops, smartphones, software and trends in technology.