Ryzen 7000 vs Alder Lake: 3 reasons why AMD's Zen 4 will smash Intel's 12th Gen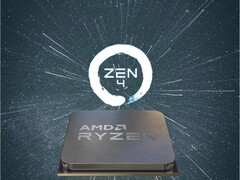 The choices and comments made on this list belong solely to the author.
1. Ever smaller process nodes
Rumour has it that Raphael Zen 4 will move AMD's processors from 7 nm down to 5 nm, which may not sound like much but could result in a substantial leap in transistor density. According to TSMC CEO C.C. Wei, this could result in an increase in transistor density of about 80%.

As for real-world differences, we could see an increase in performance of 15% with the same power budget as on 7 nm. The change could also mean a reduction in power consumption of up to 30% at the same performance. If AMD is able to further optimise the architecture itself, we could see a substantial leap in performance.

2. 3D V-Cache
Cache is an often-overlooked part of the spec sheet and can play a large role in the performance of a chip. AMD's recent innovation in the form of 3D V-Cache allows for an increase in three key areas. The larger number of shorter interconnects mean lower latency and higher throughput, while vertical stacking optimises the silicon surface area to allow more cache to fit on-die.
The Ryzen 7 5800X3D is a perfect example of the benefits of 3D V-Cache. It sports 96 MB of L3 cache, while the regular 5800X only has 32 MB. A 3x increase is sure to make a noticeable difference.
The Intel Core i5-12600KF is a great desktop CPU for a modest gaming build, and it is available on Amazon.
3. More cores are better, right?
One of the most exciting parts of the Ryzen 7000 rumours is that there may be a 24-core, Ryzen 9 variant coming. Unless Intel launches something impressive in the meantime, this 24-core part will be the highest core count consumer desktop part outside of AMD's own Threadripper chips.
The prospect of a 24-core Ryzen 7000 CPU is an exciting one, but even more interesting is that we may see a hybrid architecture in AMD's Ryzen 7000 CPUs. The Zen 4 chiplets used by AMD could feature up to 8 Priority cores (high performance) and 8 LTDP (low TDP) cores each. That would make for an impressive package, once implemented into a CPU.

My interest in tech started in high school, rooting and flashing my Motorola Defy, but I really fell down the rabbit hole when I realised I could overclock the i7 930 in my Gigabyte pre-built PC. This tinkering addiction eventually lead me to study product design in university. I think tech should improve the lives of the people using it, no matter the field. I like to read and write about laptops, smartphones, software and trends in technology.