Respectable rumour posits that the Xbox Series S will be closer to the design of the Xbox One than the Xbox Series X; Microsoft's premier next-generation console originally had an August 2020 release date too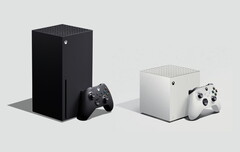 Rumours about Microsoft releasing two next-generation consoles have been around for a while now. While the Xbox Series X has already been revealed, Microsoft is yet to confirm any plans to release a second next-generation console. Apparently codenamed "Lockhart", the second console has been assigned the name Xbox Series S on account of its supposedly lesser performance. As we have previously reported, the Series S is thought to feature a GPU with 20 Compute Units (CUs) and 1,280 shader cores, which will generate up to 4 TFLOPs of performance. By contrast, the Series X will offer anywhere up to 3x times the performance.
The Series S has been imagined to look like a smaller version of the Series X too, but a reliable leaker has nipped any thoughts of that in the bud. Writing for Thurrot, Brad Sams claims that idea "may not be logical". Apparently, Microsoft is asking employees to disguise the Series S in Xbox One covers, meaning that its shape cannot resemble that of the Series X. Additionally, making the Series S a lot smaller than the Series X may increase development costs as it would force Microsoft to manufacture and test a completely different motherboard.
Sams adds that Microsoft originally planned to release the Series X in August 2020, with the Series S arriving two months later in October. However, the COVID-19 pandemic has pushed both these release windows until Christmas 2020, instead. Sams posits that Microsoft should distinguish the Series S and Series X by around US$100 "to create enough of a gap" between the two consoles. Microsoft is yet to divulge the price of the Series X yet, though.
Prior to writing and translating for Notebookcheck, I worked for various companies including Apple and Neowin. I have a BA in International History and Politics from the University of Leeds, which I have since converted to a Law Degree. Happy to chat on Twitter or Notebookchat.