Red Dead Redemption 2 gets a 90s look with ultra-low graphics settings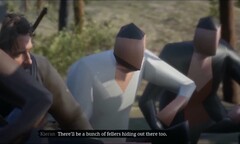 Rockstar Games released Red Dead Redemption 2 a few weeks ago on PC with some hefty recommended system requirements. While you will always need around 150 GB of storage free to install Red Dead Redemption 2, a new video shows the unintended consequences of forcing the game to run at the lowest possible graphics settings. At least you can now run Red Dead Redemption on integrated graphics, though.
Red Dead Redemption 2 (RDR2) can look exquisite on PC if you have a powerful enough system. While Rockstar Games states that the game needs a minimum of a GeForce GTX 770 or a Radeon R9 280 combined with an Intel Core i5-2500K or AMD FX-6300 to run, YouTuber LowSpecGamer has proven otherwise. The results may not be aesthetically pleasing, but he has pulled out all the stops to get the game running at the lowest possible settings.
The YouTuber went beyond merely changing the graphics settings in-game, and resorted instead to tweaking the game's XML files using Notepad++. By doing so, he was able to reduce the settings below the minimums stipulated by Rockstar.
As the video below demonstrates, LowSpecGamer managed to disable grass, vehicles and even character models from rendering. The YouTuber went further too and disabled all but foliage from rendering with disastrous results.
Disabling character rendering possibly has the funniest results, though. As LowSpecGamer elaborates on in his video, the game displays character models in the fewest polygons possible, reminiscent of titles from the pre-PS1 era. RDR2 does not apply this evenly either, resulting in some cutscenes containing a mix of rendered and unrendered characters.
Ultimately, the video is a bit of fun. Editing the game's XML files may have some practical applications too, particularly if you are struggling to run RDR2 on its lowest stock settings. However, LowSpecGamer's video is worth a watch alone to see what one of the most beautiful games from 2019 would have looked like 30 years ago.