Raspberry Pi: Turn the popular single-board computer into a cheap Hi-Fi system with multiroom, network streaming, Spotify and Tidal support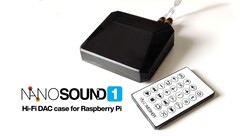 The NanoSound One is a collaboration between Argon40 and Nanomesher, which both specialise in building cases and audio DACs for the Raspberry Pi ecosystem. The device is not only a case for the Raspberry Pi Model 4B, but also a Hi-Fi DAC. The NanoSound One has a magnetic top for accessing GPIO pins, too. Better still, all the ports are arranged at the back of the device. Argon X NanoSound has supplemented the ports on the Raspberry Pi with RCA out and a dedicated power button.
The NanoSound One is built on a Texas Instruments PCM5122 DAC, which supports up to 192 kHz sampling at a resolution of 24-bits with 112-db SNR. The DAC connects to a Raspberry Pi via I²S, which Argon X NanoSound claims results in a lower jitter than most communications systems that recover the clock from the data stream.
The device can operate as a network streamer using Volumio OS or as a Spotify Connect source. The NanoSound One supports Qubuz and Tidal, too. Additionally, the NanoSound One can be put to use in a multi-room system.
The NanoSound One is available to back on Kickstarter for US$69 and upwards. The crowdfunding campaign has already exceeded its funding goal of HK$40,000 (~US$5,161) with over HK$100,000 (~US$13,000) in contributions. Argon X NanoSound hopes to deliver orders to backers in August 2020.
Prior to writing and translating for Notebookcheck, I worked for various companies including Apple and Neowin. I have a BA in International History and Politics from the University of Leeds, which I have since converted to a Law Degree. Happy to chat on Twitter or Notebookchat.