3 completely ridiculous-looking Hi-Fi speakers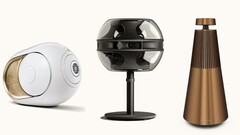 The choices and comments made on this list belong solely to the author.
1. Devialet Phantom I 108 dB Wireless Speaker (Gold Leaf, Opéra de Paris Edition)
This gaudy and gratuitous contraption will normally cost you a whopping US$3,800 (US$3,200 on Amazon) presumably due to its palladium-yellow gold alloy side plates, which do little to spruce up it's otherwise odd-looking form. Appearing to emulate the design of a plus-sized panic button or a portable space heater, this speaker cranks out up to 1,100 W of RMS power which should mean something notable to any self-proclaimed audiophile who can afford to get their hands on this pretentious speaker.
2. Syng Cell Alpha
Debuting back in October 2021 for an astounding US$1,900 (now US$1,799 on Amazon) this unsightly speaker looks like something out of a retro science-fiction film. This odd-looking Death Star on a stick was designed by former HomePod engineer Afrooz Family who left his role as Senior Audio Engineer at Apple back in 2016. Family joined over a dozen fruit company dropouts, including longtime Apple product designer Christopher Stringer, to form Syng. In true Apple fashion the Syng team dreamt up a handful of marketing buzzwords to promote the speaker including "triphonic" audio and "force-balanced" woofers, but it is not enough to convince us that this hideous soundstage centerpiece should belong in a living room.
3. Beosound 2 Wireless Speaker - Bang & Olufsen
Coming in at a hard-to-swallow US$2,800 this Hi-Fi speaker looks more like a cheap air purifier. Made of bronze-tone aluminum, this misshapen mess delivers "360-degree sound" according to B&O. The latest version even features built-in Google assistant and support for AirPlay 2, but these features do little to make up for its awkward bottleneck design that will have guests questioning why your speaker looks like an eccentrically styled bottle of tequila. The Beosound 1 is available on Amazon for under US$2,000.