QNAP unveils the TS-2888X AI-ready NAS, pre-orders now open for 15 percent off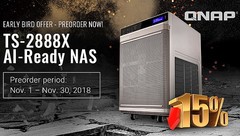 QNAP's new TS-2888X AI-ready NAS starts at US$4,900 (discounted) and can be pre-ordered for 15 percent off until the end of the month. All available models come with Intel Xeon W series processors, ASETEK liquid cooling, up to 512 GB of memory, up to 4 graphics cards, and a 2,000 Watt PSU switch and connector.
Taiwanese company QNAP Systems is back with a new NAS, namely the Intel Xeon W-powered TS-2888X. This storage accessory for business is an AI-ready all-in-one solution that combines robust storage and an easy to use software environment capable of providing an increased cost efficiency and a more straightforward AI workflow.
In addition to the powerful processor series mentioned above, the highlights of the new QNAP TS-2888X NAS also include support for up to 512 GB DDR4 ECC RDIMM memory, mainstream NVIDIA/AMD/Intel acceleration cards (thanks to 8 PCIe slots and a 2,000-Watt, 80+ Platinum-rated PSU), and up to 4 high-end graphics cards, as well as a hybrid storage architecture that includes 8 3.5-inch SATA HDDs, 16 2.5-inch SATA SSDs, and 4 2.5-inch U2 PCIe NVMe SSDs.
In addition to the hardware specs mentioned above, there is a software environment for organizations that need to deploy and maintain AI applications, which includes the exclusive QuAI developer package, as well as support for various open-source tools and frameworks, such as TensorFlow, AlexNet, FaceNet, Caffe, and more.
A comprehensive 41-page document about the capabilities of the TS-2888X can be downloaded by clicking here. The starting price (without VAT) of the TS-2888X is US$5,799, but it can go up all the way to US$27,199 depending on the model. However, the interested parties can place their pre-orders by the end of November and benefit from a 15 percent early bird discount.