Pressure-sensitive, Digital Pens Review
As a member of the creative guild, Thomas Gasperlmair looks at the latest digital pens from Apple, Eve, Microsoft, Wacom, and the Chinese manufacturer Topjoy. We conducted our tests with the following devices:
From here on we shall pass over to Thomas...
About the author: Thomas Gasperlmair - Graphic artist and Illustrator
The pen serves as a key in my life that has opened many doors and today plays a bigger role for me than it has previously. While I initially began using it to channel my frustrations as a teenager on paper, textbooks and house walls, today the pen unlocks the door to my mind and has shaped a significant part of my professional career.
From my first bar fight draw on paper at the age of six, to graphic design in my early 20s, to self-employment as an illustrator at the end of my 20s with clients like Jägermeister, international rock bands or the World Skiing Association (FIS) and even to being published in international advertising magazines, the pen has always been by my side. Without the pen, I would not be here now to write this review for Notebookcheck in my early 30s too.
The pen means a lot to me and is my tool of choice. Ink meets paper; I am drifting off from here into the world of ideas, a trip to a place where I feel good and one which puts me in the middle and crazily, even funds my life as I know it. The pen is irreplaceable for me.
In this review, the creative nerd and the tech noob will encounter the tech nerd and creative noob, a synergy that I have thoroughly enjoyed. This review should be treated as a subjective overview for those who enjoy painting and are interested in what tablets can offer us creatives, but not how I have made the transition from analogue drawing media to digital drawing surfaces. My focus on trying out various pens and their associated tablets was to see how they played with my workflow.

Apple iPad Pro 2017 & 2018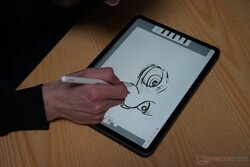 As a long-time Mac user, I gravitated to the two iPad Pros out of our test devices. Designed with the typical Mac aluminium case and black-framed screen, the two tablets look different than most tablets and are more eye-catching than the rest of our test devices. The two iPad Pros certainly win out on aesthetics and would suit the poser in the coffee house or at client meetings, although there is a price premium for Apple fetishists.
At first glance, both iPads look typically composed and practical, but after just a few minutes use I found my first limitation; no functional USB input. As someone who is not that tech-savvy, I have been storing my data externally on a hard drive for as long as I can remember, so the cloud is somewhat of a foreign word to me as I imagine it is for many other people too. Hence, I found myself at an impasse before I made my first brushstroke. Should I work on a device from which I have to email all my work to then transfer it to an external drive from another computer? I am already accustomed to the often unnecessary obfuscations of Apple products, but despite my exposure to them I can still get a little critical, so on to turning on the device.
The iPad is ready to use in no time and functions like an iPhone, which is something of a safe haven; I admit I am a creature of habit. Should I start by heading to settings or immediately activate the Apple Pencil and start drawing? My primal instinct won, and I tapped my finger on the display to open Notes; my fingerprint on a glass surface, the first of many I suspect.
Are my expectations of Apple too high? With the older iPad Pro 12.9 (2017) certainly as its slight misalignment of the stroke with the Apple Pencil feels striking. This does not apply to the new iPad though. While this drawback of the first iPad is relatively short-lived, it leaves a bitter aftertaste, nonetheless. The Apple Pencil has great pressure sensitivity and feels intuitive; the more I strain the pen, the thicker its stroke becomes. Likewise, when I relax my grip the lines become finer, and I can even create a reasonably acceptable dot work with my first attempt, such is the accuracy of the Apple Pencil. If the Pencil runs out of battery power, then you simply plug it into the charging port and wait a few minutes before starting up again. Somewhat unfamiliar to me is the surface of the iPad though even after repeated attempts at drawing; painting on glass is a feeling unto itself.
Apple has attempted to rectify the mistakes of the iPad Pro 12.9 (2017) with the iPad Pro 11 (2018, Wi-Fi, 64 GB), which it achieves in my opinion, particularly in the behaviour of the new Apple Pencil. Nevertheless, I will probably hardly implement the iPad in professional projects, but there remains a hitherto unreported issue for which Apple can do nothing, but it is essential for any creative, nonetheless. At the time of writing, there are still no full versions of Adobe Illustrator or Photoshop, which are crucial to many a creative's workflow. At least Photoshop should arrive sometime this year though.
There is still a question of size with the 11-inch version of the iPad Pro for me. It restricts me too much and is something that I would struggle to get used to.
Wacom MobileStudio Pro 13 and Intuos Pro
When one talks about digital artistry, Wacom is one of the first names that comes to mind. I was recommended this device during my studies, and now, 10 years later, I sit with the standard and the luxury versions for this report. In short, the Wacom MobileStudio is a Windows tablet and drawing tablet with its own screen, while the Intuos Pro is a pure drawing surface that you connect to a PC or Mac.
The first thing I noticed with both devices compared to any of our other test devices is their drawing surfaces, which feel the most like paper. It is best to compare it to painting on uncoated and coated paper; the Wacom is definitely bleached wood-free. A pleasant surface combines with a wonderfully balanced pen to deliver a flawless transmission of my stroke onto the tablet.
In short, the Wacom tablets make digital painting feel fun. I initially tried sketching in Adobe Illustrator and later switched to Photoshop, which were both pleasing experiences to work in and without affecting my workflow. There is nothing to complain about either tablet except that their size makes them unsuitable for painting on the go, particularly compared to the other test tablets, which are considerably smaller, thinner and lighter. The constant fan noise is rather frustrating though, and the image quality is worse than on the iPad Pros. Both Wacom tablets feel more stable on a table or a flat surface than any other tablet that we tested.
There is no need to transfer files from the Wacom Intuos Pro to a computer too as it is already connected. I found it easiest to work in the mouse mode rather than the pen mode, but I still need to practice, practice, practice until I can draw without looking at my hand as I do so. That is fine though; it will just take a while until I feel acclimatised.
Microsoft Surface Pro 6
The Microsoft Surface Pro 6 impressed me with its pleasant size and cleaner look. Moreover, the Surface Pen has the weight and shape of a traditional pen, which is a nice touch. Additionally, Windows 10 has access to all Adobe programs, which invites Windows users to realise their creative side. You can paint well on the reflective glass surface too, free from any issues or complications. In short, the Surface Pro 6 and Surface Pen make a good package that is not as nuanced as those made by Wacom, but they are still good enough for casual use. Finally, the glass surface is easy to draw on than both iPads that we tested, but that could also be because of the rounded tip that the Surface Pen has.
Eve V
The Eve V is a crowd-sourced alternative to the Surface Pro and has an N-Trig pen too. However, the implementation is somewhat weaker than its Microsoft counterpart. The pen lacks the pressure sensitivity that the Apple Pencil and Surface Pen have, which resulted in me missing every third stroke as I tried to draw. In short, the Eve V is good enough for retouching photos or note-taking but not for artists or illustrators.
Topjoy Falcon Convertible
Finally, and briefly, we have the small Topjoy Falcon Convertible, which feels like painting on A6 paper with its foldable keyboard. Unfortunately, while its affordable pricing may tempt some people, it is unsuitable for creatives. Its screen is too small, while its included pen is inaccurate and its responsiveness leaves something to be desired. In short, the Topjoy Falcon is good enough for note-taking but little else.
Thomas Gasperlmair
100,000 dots, 10,000 stitches, different styles - artwork by Tom Gasperlmair, aka aplacefortom. He has worked for the Oberösterreicher Comic and has had dot work and hand-painted posters commissioned for bands like Russian Circles, Chelsea Wolfe, Yob, Rosetta, Melt Banana and Jex Thoth among others. Tom also designs vinyl and CD artworks in collaboration with bands.
Outside the music industry, Tom has worked on projects for Jägermeister Austria and the Fédération Internationale de Ski (World Ski Association). He is responsible for visuals at this year's Slopestyle Snowboard WM 2019 in Murau-Kreischberg. You can find a small overview of Tom's work on his website or in Lürzer's Archive of the 200 best illustrators worldwide, an illustrious list that he finds himself in for the second time in a row.
Verdict
In summary, Wacom prevails as the best manufacturer of digital pens. The MobileStudio Pro 13" is the better of the two tablets that we tested as its pen and matte finish provides the best inputting experience. We did not find the slightly higher latency disturbing in practice, but it is noticeable, nonetheless. However, the Windows tablet could do with a revision as its display is not especially bright, and it is not as colour accurate as the Apple or Microsoft devices. Likewise, the constantly running fan will be annoying in very quiet environments.
Currently, nothing can touch the Wacom pens, but they are not without their limitations.
In second place we have the Surface Pro 6. The tablet has an excellent pen and a smooth screen surface, but its lack of haptic feedback lets it down.
Surprisingly, there was a clear difference between the 2017 iPad Pro and the latest models with the new Apple Pencil. The latency of the first-generation pen is absent with the new model, which even outclasses the Wacom pens in some respects. However, the limitations of iOS along with the highly reflective glass finish of the display and the weight distribution of the pen relegate it to third place behind the Surface.
Behind the Apple models is the traditional Wacom tablet without a screen. The accuracy and feel of our test device is excellent, but the disconnection between the pen and the computer will take a while to get used to.
The cheaper Eve V could not compete with the Surface despite having much the same hardware, while the Topjoy Falcon is practically unusable. In short, the Wacom tablet is the one to go for if you are a professional artist or illustrator, but the Surface Pro 6 is a great and affordable alternative for everyone else.