MWC 2017 | Oppo showcases dual-camera with 5x optical zoom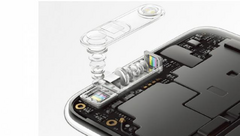 The company claims their new "proprietary image fusion technology for digital zoom" allows for a lossless 5x zoom. This 5.7mm-tall module uses a periscope-like system that reflects incoming light into a prism to increase the focal length of the camera.
Oppo might be at MWC 2017, but they're not showing off any smartphones. Oppo prefers to generate buzz about particular features rather than talk about specific smartphone models and their marketing strategy seems to be paying off in the Chinese market, at least. This year, Chinese company is showing off camera technology that may appear in its upcoming devices. Oppo has been working with Israeli startup Corephotonics on this project for the past year or so.
Called the 5x Dual Camera Zoom system, it involves over 50 tiny parts that are combined into a 5.7mm-tall module that uses mirrors to divert light through a prism and into a telephoto lens, a system similar to that used in a periscope. Incoming light is reflected by 90 degrees through a set of lenses, increasing the focal length of the camera to achieve a lossless 5x zoom.
Another benefit of the prism and this lens arrangement is that they both provide optical image stabilization (OIS), which Oppo claims is more stable than the lens-only OIS systems in other smartphones due to the prism's ability to adjust its angle to the thousandth of a degree. This isn't the only feature Oppo is announcing at MWC; they are also expected to demo charging technology that could charge an uncharged smartphone battery to full capacity in only 15 minutes.