An accidentally-published retail page confirms various Oppo F3 Plus details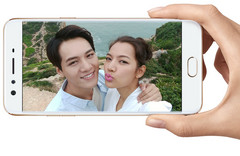 The Oppo F3 Plus and its two selfie cameras are no secret, but they hadn't been officially revealed until today, when the handset's retail page was published ahead of schedule. The error was quickly noticed and the page was taken down.
Someone at Oppo may have gotten a little too excited about the F3 Plus and its imminent official unveiling. So excited, in fact, that they published its retail page ahead of schedule. That page, which has since been taken down, confirms some of the rumors, teasers, and leaks concerning the F3 Plus, its specs, and most importantly its dual selfie cameras.
According to a cached version of the webpage, the Oppo F3 Plus features a 16-megapixel main selfie camera and an 8-megapixel secondary camera. The 16-megapixel camera takes standard high-resolution shots; for wide-angle group shots the lower-resolution camera is used. This setup would appear to work similar to that of the LG V10, whose dual selfie cameras also capture regular as well as wide-angle shots, albeit at a lower 5-megapixel resolution. The F3 Plus' selfie cameras handily beat it in that regard.
The F3 Plus' cached retail page also confirms the rest of the device's specifications, which appeared in a recent GFXBench benchmark. These include a 16-megapixel rear camera, a 6-inch Full HD display, and a Snapdragon 653. The phone runs Android Marshmallow instead of Nougat, but features Oppo's Color OS 3.0 skin.
One final thing the cached page confirms (via part of its web address) is an India release. Oppo's official announcement, now less than 24 hours away, should confirm the rest of the F3 Plus's release regions, as well as the launch date and pricing. The announcement should also reveal official details on the F3 Plus' smaller sibling, the F3.