OPPO is aiming for the 'world first to 5G phone' title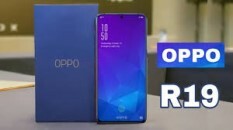 In a recent interview, OPPO's CEO, Chen Mingyong, stated that the OEM would "strive" to release the first phone with 5G in 2019. This goal would follow on nicely from earlier reports that the company had conducted the world's first video call last year. Otherwise, OPPO plans to release at least one model with the Snapdragon 855 processor in 2019.
Chen Mingyong, the CEO of OPPO, has reportedly conducted a recent interview with Qualcomm representatives in China. The executive disclosed the company's plans to be the first OEM to release a mobile device compatible with the new mobile data standard, 5G-NR. This phone is most likely to be of the Find or R series of OPPO phones.
This company may indeed be right on track to produce the world's first 5G smartphone. It has established a specific Research Institute to develop such next-gen technology. This division's most recent publicly-reported achievement was to be first to conduct a video call over 5G. The OPPO Research Institute has also produced a version of the R15 that can use 5G.
Obviously, the OEM also hopes to release at least one device powered by the top-of-the-line Snapdragon 855 processor this year. It is possible that this SoC will be found in a successor to the motorized-slider phone, the Find X, in 2019.