Not all NVIDIA GeForce RTX 3070 laptops are created equal as early reviews show performance differences of over 30% between MSI machines with supposedly identical GPUs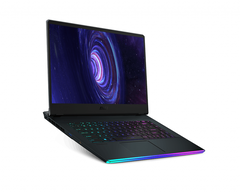 NVIDIA may be encouraging OEMs to inform consumers of the GPU wattages and clock speeds of RTX 30 series laptops, having ditched the Max-P and Max-Q names for this year's Ampere chips. Nonetheless, some OEMs like MSI have not heeded NVIDIA's advice. Instead, MSI currently describes its RTX 30 series gaming laptops as having an RTX 3060, RTX 3070 or one of two editions of the RTX 3080.
Two reviews by GenTechPC have highlighted the gap in performance between graphics cards that NVIDIA and MSI market by identical names, though. In short, the gap between the RTX 3070 Max-Q and RTX 3070 Max-P is over 30% in some benchmarks. Specifically, GenTechPC has shown the RTX 3070 edition of the GE66 Raider scoring 27,940 points in 3DMark Fire Strike Graphics. By contrast, the RTX 3070 edition of the GS66 Stealth scores 21,337 points.
The gap of 6,603 points converts to a performance difference of 31%, rounded up from 30.94%. Unsurprisingly, the GS66 Stealth scores 31% less than the GE66 Raider because its Max-Q GPU runs at 35 W and 330 MHz lower than the Max-P version in the GE66 Raider. The GE66 Raider has more chassis space than the GS66 Stealth, so it makes sense to equip it with a more powerful GPU, in our opinion. However, implying that both machines have the same GPU is disingenuous.
Ultimately, we would like to see more OEMs follow XMG in telling customers of the wattage and clock speeds to expect from RTX 30 series laptops. As it stands, the lack of clarity offered over RTX 30 series laptops reminds of the GeForce MX150, where NVIDIA snuck in slower '1D12' variants onto some ultrabooks.
Purchase the Acer Predator Triton 500 PT515-52-73L3 on Amazon
Prior to writing and translating for Notebookcheck, I worked for various companies including Apple and Neowin. I have a BA in International History and Politics from the University of Leeds, which I have since converted to a Law Degree. Happy to chat on Twitter or Notebookchat.