No, not the PlayStation 5 or the Xbox Series X: the Nintendo Switch Pro could be your best bet for next-gen gaming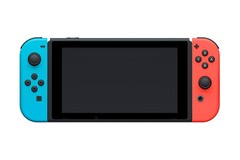 Views, thoughts, and opinions expressed in the text belong solely to the author.
We're just months away from the start of the ninth console generation. Both Sony and Microsoft have put considerable emphasis on hardware capabilities. The PlayStation 5 and Xbox Series X are the two most powerful gaming consoles ever made and, based on the footage we've seen, they'll easily power high quality 4K experiences. It's important, however, to remember that gaming consoles don't exist in a technological vacuum.
On the one hand, shrinking process nodes, greater efficiency and new mobile CPU and GPU architectures mean that today's handheld devices offer unprecedented levels of power. On the other hand, the rise of thin client game streaming, in the form of xCloud, PlayStation Now, GeForce Now, and, yes, even Stadia (despite the teething problems), raises an entirely different set of questions. Will ninth-gen games be limited to home environments? Will we even need powerful hardware to run them? When are we going to get 5G without data caps?
It's in this environment that rumors about an upcoming ninth-gen Nintendo console, the purported "Switch Pro," have emerged. The Switch Pro is supposed to hit the market sometime in 2021, giving the Xbox Series X and PlayStation 5 an ample lead. From the little we know about it, the Switch Pro will be powerful enough to power ninth-gen experiences on the go. As we mentioned earlier, if Nintendo continues its partnership with NVIDIA, the Switch Pro will likely feature a 1.4 TFLOP Tegra Xavier SoC. Factoring in FP16 GPU capabilities and a more capable CPU than the Switch, we're likely looking at a system with performance in the ballpark of the original PlayStation 4.
How could this possibly be a ninth-generation console, let alone the ninth-gen console of choice? Let's take a look at that.What the original Nintendo Switch's AAA third-party library has shown us is that developers absolutely can bring current-gen experiences to hardware with a fraction of the capabilities of current-gen home consoles.
From The Witcher 3 to Doom to Mortal Kombat and more, the Switch delivers current-gen gaming without compromising too much on the experience. If the power gap between the Switch Pro and the PlayStation 5 or Xbox Series X is similar, we wouldn't be surprised to see launch-era ninth-gen multiplatform titles running well on Nintendo's console. Many launch titles, and this is especially so on the Xbox Series X, are cross-generation, meaning that they will run in some shape or form on the Xbox One, a console that we expect to be slightly weaker than the Switch Pro.
But what about the rest of the generation? What happens when developers make the PlayStation 5 and Xbox Series X primary development platforms? At 1.4 TFLOPs, it's hard for us to see how the Switch Pro would deliver a viable experience in next-gen exclusive title. This is where streaming comes into the picture. It's no real surprise that Microsoft, Google, Sony, and NVIDIA are launching competing game streaming services within months of each other. Businesses look at product categories in terms of viability. And today, at least in major markets like the US, we're at a point where the internet infrastructure is capable of delivering a great game streaming experience.
The arrival of 5G means that we finally have a mobile internet solution that's capable of supporting game streaming. With the rise of high bandwidth data use cases outside of gaming, we wouldn't be surprised to see 5G plans without data caps proliferate. They might not be cheap, but they'd be the last piece of the puzzle.A hypothetical Switch Pro delivers the best of both worlds. It should be powerful enough to deliver a viable local experience in launch-era PlayStation 5 and Xbox Series X titles.
But by the time its hardware capabilities start to become a constraint, thin client streaming solutions will likely mature to the point that anywhere, anytime AAA gaming on the go becomes a possibility: you could take that Switch Pro with you around the house or on the metro and enjoy the same games you play on the Xbox Series X or PlayStation 5. What's not to like?
Views, thoughts, and opinions expressed in the text belong solely to the author.
I've had a passion for PC gaming since 1996, when I watched my dad score frags in Quake as a 1 year-old. I've gone on to become a Penguin-published author and tech journalist. Apart from working as an editor at Notebookcheck, I write for outlets including TechSpot and Gamingbolt. I'm the Director of Content at Flying V Group, one of the top 5 digital marketing agencies in Orange County. When I'm not traveling the world, gathering stories for my next book, you can find me tinkering with my PC.