NVIDIA Ampere GA102 may offer up to 195 MHz higher boosts compared to the RTX 2080 Ti; new 12-pin power supply connector rumored to debut on Founders Edition cards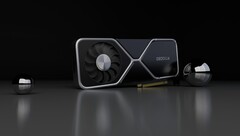 We have been hearing quite a few rumors about NVIDIA's upcoming Ampere launch but so far, there hasn't been much information regarding clock speeds. A new leak now has surfaced that indicates clock speeds for a GA102 part, but it is not yet clear to which variant it belongs.
Known leaker @_rogame has posted base and boost clocks of a GA102 variant. This variant apparently has a base clock of 1,485 MHz and a boost of 1,740 MHz. That is 135/195 MHz above an RTX 2080 Ti and 135/105 MHz above an RTX 2080 Ti Founders Edition. We hear that GA102 may offer three variants, but it is not exactly clear which of these variants shows the above clocks. NVIDIA cards are known to offer quite a decent boost headroom, so we may see even higher frequencies under the right cooling conditions.
Another bit of information we are seeing now is that Ampere cards may use a 12-pin power connector. Clues for this come from FCPOWERUP, a Chinese tech outlet known for reporting on power supplies. From the images published, it resembles a combination of two 6-pin connectors. FCPOWERUP also states that there is a secondary 4-pin connector alongside the 12-pin main power connector, but its purpose is not known at the moment.
Igor's Lab did some preliminary investigation on FCPOWERUP's report and found that this sort of a connector is possible and, in fact, long overdue. Based on FCPOWERUP's published specifications, Igor's Lab feels that this new power connector should be able to carry at least 8.5 A current and allow for up to 600 W of power under ideal conditions. Practically though, achieving such an efficiency may not be possible. Therefore, one can expect this connector to deliver at least 400 W of power, which is in line with the rumored 350 W TGP requirement of the flagship 24 GB GA102 card (RTX 3090?).
We already reported about the existence of PG133 and PG132 PCBs for Ampere. PG133 is expected to feature in the Founders Edition GPU while PG132 will be a reference board for Add-in Board (AIB) partners. There is a possibility that NVIDIA may introduce the new 12-pin supply only to PG133 Founders Edition boards and offer the standard dual-8-pin supply connectors for AIBs.
There has also been talk of NVIDIA offering a dual-8-pin EPS to 12-pin adapter. Modern power supply units (PSUs) often offer dual-8-pin EPS connectors to allow for additional power supply to the CPU for overclocking. So, if NVIDIA does indeed decide to go ahead with new 12-pin connectors, PSU makers would need to look into introducing new designs.
Though a standard 20AWG wire can deliver up to 10 A 360 W, practically we consider the output to be around 150 W under normal ambient conditions. Current power supply cables use only two 12 V and one ground and offer further extensions from the same leading to loss of efficiency. So, instead of having dedicated lines for 6-pin and 8-pin, we now have both 6-pin and 8-pin emerging from what is essentially one wire that goes into the PSU.
NVIDIA's introduction of 12-pin connectors may, therefore, help to workaround these limitations of current 20AWG specifications for the power supply wires. FCPOWERUP's drawings indicate that the new wires will be 16AWG with 9 A maximum current for per pin for 12 pins. So, does this mean you will have to shell out for a new PSU as well while considering buying a GA102 GPU?
Well, one thing that needs to be remembered here is that it is not possible to simply combine two 6-pin connectors to make it a 12-pin one as the latter is as wide as a combined 6+8-pin connector. So, if you are buying one of those Founders Edition cards, you may have to look into making a custom cable or use a dual-8-pin to 12-pin adapter that will hopefully be supplied along with the card. Those opting for fully modular power supplies will have greater flexibility in this regard.
If NVIDIA does indeed use the new 12-pin connector, we might see OEMs offer native 12-pin support on upcoming PSUs. Igor's Lab feels that the new 12-pin connector is a long overdue standard that can help in production of much more reliable power supplies — all this while hopefully ensuring that such a transition does not cause too much of an inconvenience for customers.
Though a cell and molecular biologist by training, I have been drawn towards computers from a very young age ever since I got my first PC in 1998. My passion for technology grew quite exponentially with the times, and it has been an incredible experience from being a much solicited source for tech advice and troubleshooting among family and friends to joining Notebookcheck in 2017 as a professional tech journalist. Now, I am a Lead Editor at Notebookcheck covering news and reviews encompassing a wide gamut of the technology landscape for Indian and global audiences. When I am not hunting for the next big story or taking complex measurements for reviews, you can find me unwinding to a nice read, listening to some soulful music, or trying out a new game.