Ming-Chi Kuo: Three new iPads to come in 2nd quarter, no iPad mini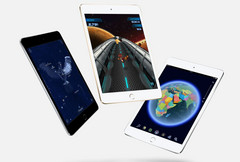 Another report coming from KGI analyst Ming-Chi Kuo affirmed, that Apple will release three new iPad models in quarter 2 of this year. The iPad mini 4 will not get an update, but a new 10 inch version with slim bezels will be released instead.
Apple is said to be on track to release three new iPads during the second quarter of 2017 according to a note sent to investors by KGI analyst Ming-Chi Kuo yesterday. We have heard news about new iPads coming in spring of 2017 before so there is nothing new in his note but it is good to get confirmation from a well respected Apple analyst like Ming-Chi Kuo. The major news here is the release of a new iPad form factor. The new 10 or 10.5 inch model is said to offer very slim bezels and will come with the A10X processor, manufactured by TSMC in a more refined 10 nm process compared to the A10 in the iPhone 7.
A new version of the 12.9 inch iPad Pro will also get the A10X-SOC which is expected to be more powerful than the regular A10. Last but not least, the 9.7 inch iPad Pro will become more of a budget device and will be updated with the A9-chip that is in the iPhone 6s. This chip will come from Samsung and not TSMC. The iPad Mini 4 will not get an update any time soon, maybe rumors from 2015 predicting the fourth version to be the last one were right after all. Ming-Chi Kuo expects iPad sales to drop 10 percent this year which is less than last year. 50 to 60 percent of all iPad sales are expected to come from the 9.7 inch model this year.