Lioncast LM60: An RGB gaming mouse and a high-resolution optical sensor for US$80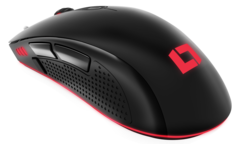 Lioncast is a comparatively new manufacturer, but that has not stopped it from expanding its range of mice. The company has now released the LM60, a wired mouse with RGB lighting and a high-resolution optical sensor. Perhaps unsurprisingly, Lioncast has designed the LM60 with gamers in mind.
The Lioncast LM60 measures 12.5 x 6.8 x 3.9 cm and weighs 105 g. Lioncast has equipped the LM60 with a Pixart PMW 3389 optical sensor that supports between 100 and 16,000 DPI and up to a 1,000 Hz Polling Rate. Moreover, the company claims that the mouse has a 1 ms reaction time, which should result in no noticeable latency. The LM60 also has side-mounted buttons for adjusting its resolution, should you need finer tracking accuracy.
The mouse has two main buttons and a scroll wheel too, but its asymmetric design means that you can only use it right-handed. You can still use the LM60 with your left hand, but you will forgo being able to adjust the resolution as you game. Lioncast also claims that the Omron switches should last up to 50 million presses.
Additionally, and as befitting a gaming mouse, Lioncast has included RGB lighting with support for 16.8 million colours, which illuminates the company logo on the front of the mouse, the centre of the scroll wheel and three strips next to the side-mounted buttons. There is a ring of RGB lighting running around the bottom edge of the mouse too. Lioncast currently sells the LM60 for €69.95 (~ £60.80/US$79.52), plus shipping for addresses outside of Germany.