Lenovo launches ThinkPad 11e Yoga 6th Gen with colorful retro logo for students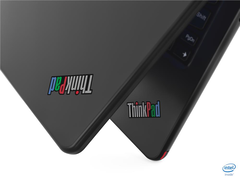 A new Lenovo ThinkPad sees the light of day: The upcoming Lenovo ThinkPad 11e Yoga 6th Gen features a rugged chassis made to be handled by some of the toughest customers possible: Students. As all ThinkPad laptops, it is black, but it does not feature a TrackPoint – and it has a colorful ThinkPad logo we have seen before.
Most ThinkPad laptops from Lenovo share some basic attributes. All of them are black, they target the business/enterprise market and pretty much all of them feature the red TrackPoint pointing-stick in the middle of the keyboard.
The Lenovo ThinkPad 11e is an oddity in the world of ThinkPads. Unlike the others, it is not made for office workers and managers. Instead, it is supposed to be used by students. Since students tend to handle their equipment less careful than other users, the ThinkPad 11e has a tougher & thicker ruggedized plastic-chassis. Also, unlike all the other ThinkPad laptops, none of the Lenovo 11e laptops feature a TrackPoint pointing stick.
On March 4, the newest member of the ThinkPad 11e was released, as the new Lenovo ThinkPad 11e Yoga 6th Gen is now listed in the Lenovo PSREF.
As the name implies, the ThinkPad 11e Yoga 6th Gen is a convertible with 360 degree hinges and also features a digitizer pen. It is powered by a pair of Intel Amber Lake processor: The Core m3-8100Y and the Core i5-8200Y, which are paired with 4 to 8 GB soldered LPDDR3-RAM. The chassis houses a small 11.6 inch IPS HD (1,366 x 768) screen with large bezels around it. To summarize the specs: This is not a machine meant for enthusiasts or regular office users.
What is interesting about the new ThinkPad 11e Yoga 2020 is the special ThinkPad logo Lenovo uses on this machine: Its the same retro-inspired logo with the tricolor "Pad" that was used on the Lenovo ThinkPad 25 (aka ThinkPad Retro). Why Lenovo uses this special edition logo for this educational device is unclear.