Lenovo ThinkStation P5, P7, and dual-socket P7 feature Aston Martin looks, Intel Sapphire Rapids Xeon Scalable CPUs up to 120 cores, and Nvidia RTX 6000 Ada GPUs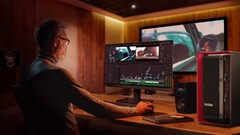 Lenovo is introducing three of its most powerful workstations yet — the ThinkStation P5, ThinkStation P7, and the ThinkStation PX. These workstations are based on the recently launched Intel Sapphire Rapids Xeon workstation processors and Nvidia RTX 6000 Ada GPUs that are due in summer this year.
Lenovo is also focusing on aesthetics this time alongside performance. The company has collaborated with Aston Martin in designing the 3D grill chassis of the workstations based on the Aston Martin DBS. Notable design elements include redesigned air baffles, larger 3D hexagonal vents, and Lenovo's three-channel cooling system. Aston Martin will also use Lenovo workstations for automotive design and development.
Lenovo ThinkStation P5
The Lenovo ThinkStation P5 is the entry model in the series. The ThinkStation P5 comes with an Intel Xeon W-2400 up to 24 cores. Intel positions the Sapphire Rapids Xeon W-2400 as a mainstream workstation part. The processor supports 64 PCIe Gen 5 lanes.
On the GPU side, the ThinkStation P5 can be fitted with up to two Nvidia RTX A6000 GPUs based on the Ampere architecture. Customers have the option of expanding ECC memory up to 512 GB of DDR5-4800 while storage can be configured up to 3x 4 TB NVMe and up to 3x 12 TB SATA.
Lenovo ThinkStation P7
The ThinkStation P7 uses the Expert Workstation class of Intel Sapphire Rapids chips, which is the Xeon W-3400 up to 56 cores and 112 PCIe Gen 5 lanes. The ThinkStation P7 offers the maximum performance in a single-socket configuration coupled with up to 3x Nvidia RTX 6000 Ada GPUs.
Up to 1 TB DDR5-4800 ECC memory along with 4x 4 TB NVMe and 3x 12 TB SATA storage can be configured.
The ThinkStation P7 can be used as a desktop workstation or installed in a 4U rack mounting fashion for datacenter usage.
Lenovo ThinkStation PX
The ThinkStation PX is Lenovo's most premium workstation offering this year. The ThinkStation PX offers a dual-slot CPU configuration that can take dual 4th gen Xeon Scalable processors up to 120 cores.
The ThinkStation PX can also take up to 4x Nvidia RTX 6000 Ada GPUs, supports up to 2 TB DDR5-4800 ECC RAM, 7x 4 TB NVMe, and 2x 12 TB SATA storage.
The port selection is similar to that of the ThinkStation P5 and P7, but the PX comes with an additional 10 GbE LAN. All three ThinkStations offer Intel Wi-Fi 6E AX211 vPro with Bluetooth 5.2.
Lenovo preloads Windows 11 Pro for Workstation (or Windows 10 Pro for Workstation with downgrade rights) and Ubuntu. Windows 10 Enterprise and Red Hat Enterprise Linux are supported.
The Lenovo ThinkStation P5, P7, and PX will be available from end of May 2023.
Though a cell and molecular biologist by training, I have been drawn towards computers from a very young age ever since I got my first PC in 1998. My passion for technology grew quite exponentially with the times, and it has been an incredible experience from being a much solicited source for tech advice and troubleshooting among family and friends to joining Notebookcheck in 2017 as a professional tech journalist. Now, I am a Lead Editor at Notebookcheck covering news and reviews encompassing a wide gamut of the technology landscape for Indian and global audiences. When I am not hunting for the next big story or taking complex measurements for reviews, you can find me unwinding to a nice read, listening to some soulful music, or trying out a new game.