Leak confirms AMD Ryzen 4000 "Vermeer" Zen 3 and 7 nm processors are in the final stages of development; AMD sticking with Vega GPUs for Renoir successor, moving onto Navi GPUs as of Van Gogh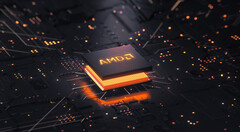 As the Q3 2020 release window for AMD Ryzen 4000 "Vermeer" processors is almost upon us, igor'sLAB has been doing some digging on AMD's upcoming product stack. Expectedly, the company's Vermeer processors are undoing their final stages of development, which igor'sLAB posits allows AMD to be flexible with the exact release date of its next-generation chips. Igor Wallossek of the website seems to think that AMD will launch its Ryzen 4000 desktop processors in Q4 2020, but a company spokesperson has recently reiterated that it remains committed to a Q3 release instead.
The successor to the Renoir architecture is also in development. Codenamed Cezanne, igor'sLAB claims that AMD will continue to divide its Ryzen mobile APUs into H- and U-series offerings. Additionally, these Ryzen 5000 APUs will run on the FP6 and AM4 package as Renoir chips do. igor'sLAB suggests that this should allow OEMs to drop-in Cezanne APUs into the same laptop design if they choose to as they need not do any wholesale reconfiguring. The same should apply to desktop consumers who want to upgrade to Cezanne desktop chips. Wallossek adds that Cezanne APUs should come paired with Vega 20 GPUs, too.
Additionally, AMD has new "Van Gogh" low-power Ryzen 5000 APUs in the pipeline. These will apparently rely on Navi 21 GPUs, which should be a big upgrade over Vega GPUs. These "Van Gogh" APUs, which will replace AMD's Dali generation, will sport Zen 2 cores though. igor'sLAB notes that this would leave Ryzen 5000 APUs with technically inferior GPUs to their low-power mobile counterparts, but Wallossek suggests that this is because AMD is pushing hard for mobile processor market share improvements.
According to the same report, AMD will move onto Navi-based GPUs for Rembrandt. Rembrandt will succeed Cezanne and will feature Zen 3 cores. There is no word on what will come after Vermeer, but current thinking suggests that it will be Warhol, which will eventually be succeeded by Zen 4 Raphael processors.
Prior to writing and translating for Notebookcheck, I worked for various companies including Apple and Neowin. I have a BA in International History and Politics from the University of Leeds, which I have since converted to a Law Degree. Happy to chat on Twitter or Notebookchat.