Initial benchmarks reveal what the NVIDIA RTX 2070 SUPER will bring to laptops later this year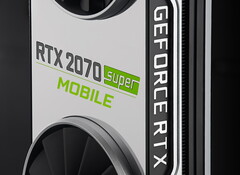 The RTX 20 SUPER refresh for laptops is right around the corner, and initial benchmarks show what the RTX 2070 SUPER could offer. The card, which will NVIDIA's third most-powerful laptop GPU of 2020, offers up to 10% better performance the current RTX 2070 and will launch on March 16 alongside the rest of the company's refreshed roster.
It has been over six months since NVIDIA launched its RTX 20 SUPER series for desktops, but it is still intent on doing so for laptops. We have already seen the RTX 2080 SUPER flexing its muscles online, but the RTX 2070 SUPER will form part of a larger mobile GPU refresh for NVIDIA. The GTX 1650 SUPER and GTX 1650 Ti will be too new SKUs too, along with the RTX 2060 SUPER. Hence, the RTX 2070 SUPER will become NVIDIA's third-fastest laptop GPU of 2020 after the RTX 2080 and RTX 2080 SUPER.
As per our exclusive leak last year, the RTX 2070 SUPER is currently codenamed N18-G2R. Initial benchmark results reveal that the GPU will offer about a 10% performance improvement over the regular RTX 2070, although keep in mind that this does not guarantee that the RTX 2070 SUPER will outperform its predecessor by the same margin in games.
The RTX 2070 SUPER will retain the 8 GB of GDDR6 VRAM of its predecessor, though. Moreover, it will still come in 80 W Max-Q and 115 W Standard variants. The RTX 20 SUPER series for mobile is due to be unveiled on March 16.