In review: Lenovo ThinkPad T490 with IGZO Low Power FHD screen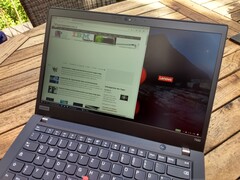 Notebookcheck is reviewing the Lenovo ThinkPad T490 at the moment. Our review sample contains a FHD screen that Lenovo markets as "Low Power". As we found out, the screen used here is not a normal a-SI IPS LCD, but a higher quality IGZO IPS panel.
When the PC manufacturer Lenovo announced its new 2019 business ThinkPads at MWC, the Low Power FHD screen announced for the two models Lenovo ThinkPad T490 and ThinkPad T490s were two of the most interesting new features. The new 14 inch FHD (1,920 x 1,080) screens offer a brightness value of 400 cd/m² and they are supposed to cover 72 % of the NTSC color gamut. Their most important feature is supposed to be the lower power consumption compared with other screens.
Of course, marketing is always one thing and reality is often completely different. The practical advantage of these Low Power FHD panels had to be proven first. Also, there is the question how Lenovo achieves the lower power consumption and which technology is used here.
Since we are reviewing a Lenovo T490 with such a Low Power FHD screen at the moment, we can answer these questions, at least partly. The LCD screen with the model number NE140FHM-N61 used in our review unit was made by BOE. It really does seem to lower the power consumption, as the average Idle power consumption compared with the ThinkPad T480 (which contained a normal FHD IPS screen) is lower by 41 %.
Thanks to Panelook, we know how Lenovo achieved this lower power consumption, too. The BOE NE140FHM-N61 is an IGZO screen. IGZO displays are normal IPS LCDs, which use Indium Gallium Zink Oxide instead of amorphous Silicon (a-Si) as the backplate-material of the LCD. IGZO screens are more expensive than normal a-Si LCDs, but their biggest advantage is their lower power consumption.
We will publish more measurements in our comprehensive review, which should be published in the coming weeks.