Huawei P10 Series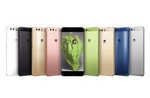 Processor:
Kirin 658, Kirin 659, Kirin 960
Graphics Adapter:
ARM Mali-G71 MP8, ARM Mali-T830 MP2
Display:
5.10 inch, 5.20 inch, 5.50 inch
Weight:
0.144kg, 0.146kg, 0.165kg, 0.169kg
Price:
349, 599, 749 euro
price: 77%, performance: 85%, features: 85%, display: 85%, mobility: 79%, workmanship: 86%, ergonomy: 86%, emissions: 95%
Huawei P10
The Huawei P10 is a culmination of everything the company has been doing right, with a few minor tweaks from the P9. The Huawei P10 phone shines with plenty of premium components and features packed into a pleasingly compact 5.1-inch form. The Huawei P10 is available in one of two alternative finishes. The new 'dazzling' model features a precision-cut textured back that certainly stands out, while a glossy ceramic version is both hardy and a serious break from the standard metal design. A strong selection of colors in the sandblasted and dazzling models are featured, including the very attractive and rather vibrant new green hue. This 5.1-inch handset looks quite similar as the P9 flagship from last year, but with more rounded corners and edges for a more comfortable fit in the palm. The P10 features a glossy bar up top where the dual-lens camera resides, while button and port positioning is the same as P9. The Type-C USB port and headphone jack are down below, with a drawer for microSD memory card and SIM card housed on the left edge. The P10 isn't water resistant, but it can survive a serious splashing in a rainstorm according to Huawei. Huawei has decided to opt for a Full HD display on the P10, which is much the same as the Huawei P9's. On first impressions, it seems to be a bright and easy-to-read panel. The relatively compact 5.1-inch screen still pumps out sharp, clear images. The Huawei P10 runs Android Nougat, the latest version of Google's mobile OS, which gives loads of great features including the ability to split-screen multitask with two apps at once. Users also get plenty of personalisation options, as well as resource management tools to help when the battery is low or the phone shows signs of ageing. Huawei has added its own software on top of Android, known as Emotion UI (or EMUI for short) at version 5.1. The smartphone features a fingerprint sensor, which improves the phone's security and is impressively responsive, with almost one hundred percent accuracy to boot. The sensor also now functions as a home, back and recent apps button all rolled into one. Just tap for back, press for home and swipe for recent apps. It's a method that takes a little getting used to, but works beautifully once adapted. Packed inside the P10 is a Kirin 960 chipset backed by 4 GB of RAM. This hardware specification provides smooth performance while running apps and games. Moreover, the P10 packs a 3200 mAh battery, which could easily make it through a full day of heavy use on a single charge. It features some handy battery optimization tools, which can close power-draining apps when the phone is idle. The Huawei P10 boasts a dual-lens rear camera designed in its third collaboration with partners Leica. This updated mobile snapper offers a 20 MP monochrome lens and a 12 MP color lens, complete with Optical Image Stabilisation (on the color lens at least), PDAF and a dual-tone LED flash. Some tests done by users suggest that there is a slight improvement over the P9's camera. The P10 then is a solid upgrade to the already wonderful P9. Hands-on article by Jagadisa Rajarathnam
Specifications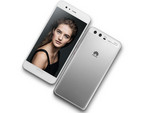 Notebook:
Huawei P10
Processor:
Kirin 960
Graphics Adapter:
ARM Mali-G71 MP8
Display:
5.10 inch, 16:9, 1920 x 1080 pixels
Weight:
0.144kg
Price:
599 euro
Links:
Huawei homepage
Pricecompare
Average Score:
Average of 174 scores (from 404 reviews)
Reviews
Foreign Reviews
Huawei P10 Plus
The Huawei P10 Plus was one of the headliners at the MWC. It is also Huawei's best phone to date. The smartphone is built to redefine modern portraiture through the lens of the Huawei P10 Plus, so the camera of the phone is the main attraction. The camera of the Huawei P10 Plus is the same unit used in the Huawei Mate 9; the Leica Dual Camera 2.0 Pro Edition carries two SUMMILUX-H lenses with a larger aperture (f/1.8). The result of it is 4K shooting, 20MP+12MP sensors, Optical Image Stabilisation and superior low-light photography. The camera also uses precise 3D facial detection, dynamic illumination, and natural portrait enhancements to produce stunning artistic portrait shots in Leica image style. The all new Leica front camera captures 2x more light, offering amazing self-portraits, whether day or night. Huawei P10 Plus even senses groupies and automatically switches to wide-angle shots when more people enter the picture. Huawei has been improving its basic design for some time now, tweaking its formula with every release of new smartphone models. The P-series has been all about perfecting and promoting smartphone craftsmanship and sophisticated elegance. A notable change from the P9 is the placement of the fingerprint sensor. Previously, it sat just below the camera sensors on the rear of the phone; in the P10 Plus, it moves to the front so it can even be unlocked while sitting on a desk. The P10 Plus can be picked up in three distinct finishes. It doesn't only refer to colour. These include Ceramic White, Dazzling Blue, Dazzling Gold, Prestige Gold, Graphite Black, Mystic Silver, Rose Gold, and Greenery.
Under the hood, the Huawei P10 Plus uses machine learning and the new ultra-fast Kirin 960 processor to keep the P10 Plus's performance at the peak of its game. Coupled with HUAWEI Ultra Memory technology that intelligently allocates, recycles, and compresses memory, apps load faster than on its predecessors. It also comes with 6GB of RAM. The phone packs 128GB of internal storage that can be expanded by up to 256GB via a microSD card. As for the display, the Huawei P10 Plus has a 5.5-inch IPS-NEO LCD panel at a resolution of 1440 x 2560 pixels. At 540ppi, it is definitively sharper than the 1080p P10. Sunlight legibility is pretty good, especially for an LCD. The P10 Plus remains perfectly usable outdoors, which is a strong testament to the second merit of the IPS-NEO panel after the above-average contrast with relatively deep blacks. The Huawei P10 Plus is powered by a sealed 3,750mAh battery. The phone ships with a beefy charger capable of outputting 5V/4.5A, 4.5V/5A, and 5V/2A, with a maximum power of 22.5W. Low voltage ratings also allow all the internal components to remain cool during charging. The Huawei P10 Plus is a dual SIM (GSM and GSM) smartphone that accepts two Nano-SIM cards. The P10 plus is a surprisingly powerful and flagship-like phone. It is priced close to the midrange section, but features specs that can match some flagship devices. In some ways, the Huawei P10 Plus is a major competition to their very own Mate 9 Pro.
Hands-on article by Jagadisa Rajarathnam
Specifications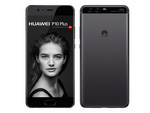 Notebook:
Huawei P10 Plus
Processor:
Kirin 960
Graphics Adapter:
ARM Mali-G71 MP8
Display:
5.50 inch, 16:9, 2560 x 1440 pixels
Weight:
0.165kg
Price:
749 euro
Links:
Huawei homepage
Pricecompare
Average Score:
Average of 104 scores (from 206 reviews)
Reviews
Foreign Reviews
Huawei P10 Lite
The new Huawei P10 Lite is in many ways as attractive and impressive as the P10 flagship. The Lite series have always been known to be more budget friendly; yet in the face of its lower costs, it is well-built with noteworthy features. At first sight, the build of the P10 Lite does not depart significantly from its P10 sibling. It retains a thin and slim profile at 7.2 mm thick. Both the front and rear panels are coated with 2.5D double-sided curved glass. It is further enhanced with 7H hardness rating to prevent scratches and damages. This affords the P10 Lite with more durability. Another cosmetic feature on this phone is the shiny film on its rear glass which gives a rippling wave effect which changes with lighting conditions. This smartphone is encased in an aluminum and magnesium body which undergoes a CNC process to make it more rugged. It is pleasant to grip thanks to the ceramic blasting which gives the P10 Lite a textured finish. The P10 Lite is fitted with a 5.2-inch FHD display. This vibrant display is not only clearer and crisper; it is also 20 percent thinner. With this dazzling display, eye strain is greatly reduced and thus, making viewing experience more pleasurable. The P10 Lite is powered by a Kirin 658 processor with 32 GB of memory. Apps load and run smoothly without any sluggishness. In fact, the performance between the Lite and the regular P10 won't defer too much in terms of day to day tasks. It might only be noticeable when playing games and running other heavy apps. The storage capacity is expandable to up to 256 GB via a microSD card. For optics, this smartphone is fitted with a powerful 12 MP rear camera and an 8 MP front facing camera. It may pale in comparison from its P10 sibling, which is integrated with dual Leica cameras; nevertheless, the larger 1.25 μm pixel sensor on the primary lens and the facial recognition technology on the front camera make this configuration an equally powerful lens combo for the pleasure of shutterbugs. Furthermore, Huawei's proprietary Knuckle Sense Technology allows for drawing on the screen to capture screenshots and screen recording. It may be argued that USB 2.0 is outdated with the increased adoption of USB type-C ports; yet, this drawback is overcome by the 3000 mAh battery, which charges faster and lasts longer. Huawei claims that a 10-minute charge powers 2 hours of video watching. The 5-level safety design and fast charge technology is certified by 11 global organizations, thus, affording users with more security. In all, the P10 Lite makes an appealing alternative to its pricier sibling. Hands-on article by Jagadisa Rajarathnam
Specifications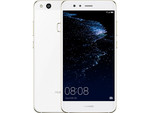 Notebook:
Huawei P10 Lite
Processor:
Kirin 658
Graphics Adapter:
ARM Mali-T830 MP2
Display:
5.20 inch, 16:9, 1920 x 1080 pixels
Weight:
0.146kg
Price:
349 euro
Links:
Huawei homepage
Pricecompare
Average Score:
Average of 72 scores (from 124 reviews)
Reviews
Foreign Reviews
Huawei P10 Selfie
Let me take a selfie! Wasn't this line the sole starter of selfie craze? Before selfies were this popular, we, basic human beings, were only using the rear camera of our phones, were not that much interested in the front camera as it was mostly taking a picture with a potato. But times have changed and now we see models putting emphasis on front camera. Huawei's P10 Selfie is one of those models. The thing with this model is that it has a different name in different markets. The rumor is that new Nova 2 Plus and P10 Selfie just the same, but being marketed differently in different markets. Ok, enough with the intro. The P10 Selfie is not a lite model, yet it is not as strong as base models either. It sits between two worlds. But it is just for the hardware part, from outside it is as beautiful as a P10 Plus, since they are similarly sized, a regular eye can not tell them apart. So why name this model especially selfie? Let us start with rear camera. There are 2 lenses on this model. One is 12 MP and the other 8 MP. You have the portrait mode, yay! With a good distance it has a nice focus, nice zoom options etc. It is quite similar to iPhone 7 Plus and the Mi 6. This is Huawei's way of saying not only top models have the best cameras. Now lets get back to front camera. It has a whopping 20 MP lens. Yes, 20 MP and also has a portrait mode! The number of MPs does not matter if the camera does not provide a good quality of course. But it seems like Huawei provides something better than average. Portrait mode in front camera is not as good as the rear cameras, but worth giving a shot. On the other hand, Huawei says the P10 Selfie shares the same machine learning experience as P10, making your experience much better. Okay, now the question is should you buy it? If your main usage with your phone is internet, if you are not playing games or some office applications and you are spending your time with chat apps and taking photos etc., jackpot! You found your phone. P10 Selfie shares the same drawbacks each mid-range phone has. Its processor is good enough for day to day operations, but graphics wise it lacks the required power. Hands-on article by Ümit Yılmaz Güneş
Specifications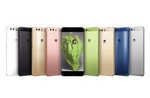 Notebook:
Huawei P10 Selfie
Processor:
Kirin 659
Graphics Adapter:
ARM Mali-T830 MP2
Display:
5.50 inch, 16:9, 1920 x 1080 pixels
Weight:
0.169kg
Links:
Huawei homepage
Pricecompare
Foreign Reviews
Comment
Huawei: Huawei Technologies Co, Ltd. is a Chinese telecommunications company and hardware manufacturer founded in 1987 and headquartered in Shenzhen. Huawei is a global leader in information and communications technology (ICT) infrastructure and smart devices. Huawei provides end-to-end solutions for telecommunications networks, devices, and smartphones, as well as storage, servers, networking, and cloud computing enterprise solutions and products.
In 2014, Huawei established the Honor subsidiary brand under which certain smartphone lines are sold. The Huawei name is usually not listed for these products.
---
Non demanding games should be playable with these graphics cards.
ARM Mali-G71 MP8: Integrated ARM graphics adapter for smartphones and tablets found in the HiSilicon Kirin 960.
Only some 3D games with very low demands are playable with these cards.
ARM Mali-T830 MP2: Integrated graphics card for smartphones and tablets with two clusters (MP2) supporting OpenGL ES 3.2.
» Further information can be found in our Comparison of Mobile Graphics Cards and the corresponding Benchmark List.
---
:
Kirin 960: ARM based octa-core SoC (4x Cortex-A73 + 4x Cortex-A53) and successor to the Kirin 955. Integrates a Mali G71 MP8 GPU and is manufactured in a 16-nm process.
Kirin 658: ARM based mid-range SoC with 8 Cortex-A53 cores (4 power saving cores at up to 1.7 GHz, four performance cores at up to 2.35 GHz. Also integrates a dual SIM LTE Cat.6 300 Mbit/s modem and is manufactured in 16 nm FinFET+.
Kirin 659: ARM-based octa-core SoC (4x Cortex-A53 max. 2.36 GHz, 4x Cortex-A53 max 1.7 GHz) with an integrated LTE modem (Cat. 13) and a ARM Mali-T830 MP2. In our benchmarks around 4% faster as the older Kirin 658.
» Further information can be found in our Comparison of Mobile Processsors.
---
» To find out how fine a display is, see our DPI List.
---
No weight comment found (one expected)!
---
82.42%: This rating is slightly above average, there are somewhat more devices with worse ratings. However, clear purchase recommendations look different.
» Further information can be found in our Notebook Purchase Guide.