How much the popular Twitch Streamer "Ninja" made in 2018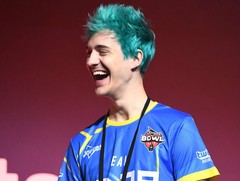 It is no mystery that 27 year old Tyler "Ninja" Blevins is renowned as one of the most popular streamers of all time but have you ever wondered how much this media sensation earned in 2018? Not only did Tyler reveal this information in a recent interview with CNN, he also claimed that 2018 was his best year so far in terms of earnings.
Imagine earning money simply by playing your favorite video games, for many young gamers nothing but a dream. This dream became a reality for Tyler Blevins, a twitch streamer and internet personality that managed to turn gaming into a career. However as charming as it seems, the gaming lifestyle in not always fun and games, something Tyler could write a book about.
94,958 Fortnite kills do not happen by themselves. In order to obtain them Tyler had to sit in front of his webcam streaming and gaming, gaming and streaming for hours on end. A mere 4 day break from streaming after the E3 gaming convention resulted in Tyler losing a whopping 100 000 followers on Twitch. A small price to pay for a man whose fan base amounts to 12,8 million followers on the platform and an additional 20 million followers on youtube. You would think that with such a huge following Tyler would begin taking it easy, but a holiday is not in the cards yet!
Tyler's hard "work" certainly pays off. In an interview with CNN Tyler alluded to receiving an annual income of 10 million US-Dollars! The icing on the cake is the abovementioned sum is not Tyler's total net worth but merely his income in the year 2018 alone. The gamer managed to acquire 70 percent of his income through paid subscriptions, donations and ad revenues on video streaming platforms. The other 30 percent, he made by partnering up with sponsors such as Red Bull (hence the refrigerator stacked with Red Bull in the background during his streams), Samsung and Uber Eats.
Wonder what the gamer is up to? If you ever want to peep over the Ninja's shoulder and catch a glimpse, you can do so here on Twitch. We bet that whilst this very article was being composed, he was online…playing Fortnite… as he almost always does.
Working For Notebookcheck
Are you a techie who knows how to write? Then join our Team! Especially English native speakers welcome!
Currently wanted:
News and Editorial Editor - Details here