Hack the Air Force 2.0 costs USAF over US$100,000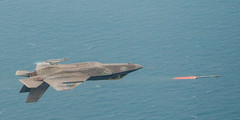 The United States Air Force has made bounty payouts totaling US$103,883 to hackers invited to test the force's systems and software. The event ran from December 9, 2017 to January 1, 2018.
Working For Notebookcheck
Are you a techie who knows how to write? Then join our Team! Especially English native speakers welcome!
Currently wanted:
News and Editorial Editor - Details here

It seems more prudent than ever for the United States Air Force to upgrade its software as soon as possible. The data for the recent Hack the Air Force 2.0 challenge has been collected and offers some interesting results. Twenty-seven hackers, who had been invited to partake in finding bugs and vulnerabilities in USAF systems, managed to discover 106 issues. For their work, the hackers earned a total of US$103,883, including a bounty award of an impressive US$12,500 for a single vulnerability.
Trusted hackers have been invited to exploit USAF systems before, with the first successful Hack the Air Force challenge that ran from May 30, 2017 to June 23, 2017 resulting in a total of 207 valid vulnerabilities being reported. The main targets for hackers were websites considered to be "operationally significant."
The hackers involved in the second iteration of the challenge came from countries such as Canada, United Kingdom, Sweden, Belgium, the Netherlands, and Latvia. Perhaps if hackers from Russia and North Korea had been invited, even more security issues would have been discovered – but probably more F-35 fighter planes would have ended up flying upside down, too.