Fortnite Season 8 arrives with pirates, ninjas, new map points of interest, and more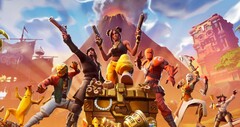 The eighth season of Epic Games' Fortnite comes with two new locations - Lazy Lagoon and Sunny Steps — as well as pirates, ninjas, and "a ship load of new fighters" that will join the battle. The season's Battle Pass comes with more than 100 brand-new exclusive rewards and comes for the same price of 950 V-bucks.
Epic Games' Fortnite is back with a new season that brings a generous amount of new content and — as usual — comes with a new Battle Pass that involves quite a few exclusive rewards waiting to be unlocked.
According to the official release announcement, Fortnite Season 8 comes with "a monstrous volcano" that "has brought fire and flame to Fortnite and its islands." The list of changes includes pirates, ninjas, and other new fighters, two new locations (Lazy Lagoon and Sunny Steps), as well as a new Battle Pass.
The new Battle Pass is priced at 950 V-bucks, just like its predecessor. Those who purchase it get the Blackheart and Hybrid progressive outfits instantly, both of which feature new styles that be unlocked. However, those who completed the 13 free Overtime Challenges available during the Share the Love event can claim their free Season 8 Battle Pass (or upgrade to a Battle Bundle and enjoy a discount).
Another change is Party Assist, which allows Fortnite players to pick a Daily or Weekly challenge and get assistance from their friend to complete it.
For more quick details, feel free to check the two movies embedded below. Are you an old Fortnite player, barely got started, or one of those still avoiding this (very) popular title? Feel free to let us know in the comments below.