First AMD Ryzen fanless mini PCs are here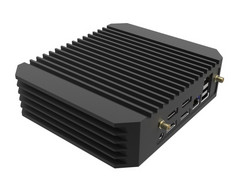 While the mini PC market is clearly dominated by Intel, AMD is now trying to steal some market share, at least in the ULV sector. The embedded version of AMD's Ryzen CPUs come with up to 4 cores / 8-threads and can integrate up to 32 GB of RAM plus up to 1 TB SSD storage. The mini PC cases are fanless and also resistant to dust and shocks.
AMD's new embedded CPU solutions are finally getting integrated in silent mini PCs, although the prices might not be for everyone. UK OEM TranquilPC is the first to offer AMD Ryzen mini PCs, and, apart from the fanless design, the new models are also IP50-certified for dust resistance / shock protection specific to industrial or enterprise applications. Still, these are not the most compact mini PCs out there, measuring 7.1 x 6.2 x 2.2 inches.

TranquilPC made sure to add a generous range of ports, which includes USB-C / USB-A, audio out, VGA, 4 x DisplayPort outputs, a GbE jack and wireless antennae slots.

The embedded Ryzen CPUs are comparable to laptop ULV processors in that they come with 12 – 25 W TDPs and they are soldered, as well. However, they do benefit from the same architecture featured in the desktop counterparts, so the performance is not lacking in any way. As previously mentioned, the prices are not budget-friendly, most likely because TranquilPC has no competition for the moment. Here are the three CPU options and their prices:

• Ryzen Embedded V1202B (2-core/4-thread) CPU/8GB RAM/250GB SSD – $873
• Ryzen Embedded V1605B (4-core/8-thread) CPU/16GB RAM/250GB SSD –$1006
• Ryzen Embedded V1605B (4-core/8-thread) CPU/32GB RAM/1TB SSD – $1484

These three models are already available for pre-order from TranquilPC's online shop, and the estimated shipping date is set to early September.