Eve announces Tiger Lake-powered Eve V successor amid continued claims of historic Eve-tech unfulfilled orders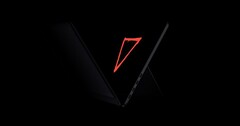 Eve, or rather Eve Distribution as it has been called since late last year, has announced its next 2-in-1. Called Version 2.0 for the time being, the company is promising to deliver a Tiger Lake-powered 2-in-1 that will improve upon the original Eve V without abandoning its Surface Pro-esque design. Claims of unfulfilled orders and refund refusals continue to dog the company, though.
Following the announcement of Spectrum, a 240 Hz gaming monitor, Eve has announced that a new Eve V is in development. Tentatively called the Version 2.0 at this stage, Eve stated to fans that the new device would be "like the V, but better" and that it was not "re-inventing the wheel". Correspondingly, the Eve V Version 2.0, which we shall refer to as the Eve V2 for simplicity, will still be an x86 machine. It will feature a kickstand and a folio keyboard too.
Tom's Hardware has also published exclusive information about the upcoming 2-in-1, along with a teaser image of the device. According to the website, an Intel 11th generation CPU will power the Eve V2, specifically a 15 W Tiger Lake UP4. CEO Konstantinos Karatsevidis is also reported as stating that the device will support Wi-Fi 6 connectivity. Additionally, the teaser image that the Eve V2 will feature at least four USB Type-C ports, with two being Thunderbolt 3.
Eve Distribution, originally called Eve-Tech Distribution, claims that it has resolved supply and shipment issues that affected many Eve V orders. However, r/evev and our comments sections in previous articles about Eve, are littered with complaints about people still not having received their orders. These are historic orders too, with some dating to nearly two years ago. While these do not appear to be the work of people spreading misinformation, it seems that Eve Distribution may be refusing to fulfil orders placed with Eve-tech.
So, is Eve a scam? Probably not. However, we would exercise caution if you are considering purchasing the Version 2.0, Spectrum or perhaps an original Eve V. Some people have certainly received, and are happy with, their Eve V. Eve Distribution may have turned a corner with distribution and supply issues too, even if r/evev suggests otherwise.