Disc-less Xbox One could be in the works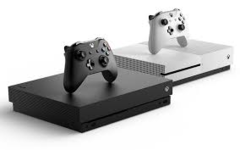 It is possible Microsoft is working on an Xbox One variant that will not use discs for accessing media. The disc-less console will rely on digital downloads and come in at a cheaper price point than current Xbox One consoles with optical drives. Under a special Microsoft program, gamers will be able to exchange physical Xbox discs for download codes.
A report from Thurrott.com has claimed that Microsoft is planning on releasing a disc-less Xbox One console to capture a portion of the video-game market that isn't keen on retaining stacks of physical media. The new machine would apparently be offered at a price point below US$200, considerably less than the US$299 that the Xbox One S officially costs.
Those concerned about giving up large game libraries have been catered for. Microsoft will institute a "disc-to-digital" program that will allow Xbox One owners to exchange their physical discs for download codes. Of course, owners of the disc-less Xbox One console will be more reliant on decent and stable Internet speeds, but the lower price should certainly encourage some potential buyers.
The Thurrott article has stressed that the disc-less console, which should be released in 2019, is not part of the upcoming Scarlett family of Xbox devices. However, it is not expected that Microsoft will completely do away with including optical drives with future consoles, as there is still a large amount of people who prefer owning physical copies of games.