Cortana may die and be reborn - as the new Clippy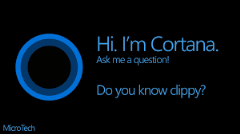 New rumors emanating from Microsoft suggest that the Office software team want to take over Cortana's functions and place in the Windows OS. This would mean that Office could strongly inform its development in the future, converting the flagging virtual assistant into more of a productivity helpmeet - much like a certain animated paperclip.
Working For Notebookcheck
Are you a techie who knows how to write? Then join our Team! Especially English native speakers welcome!
Currently wanted:
News and Editorial Editor - Details here

A new rumor posted on the website petri.com suggests that Cortana and Clippy may become much more interchangeable soon. This leak indicates that responsibility for the virtual assistant and its development is being moved away from Microsoft's internal AI and research division into one more strongly associated with Office and other Windows productivity tools.
Should this rumor be proved correct, it is a damning indictment of Cortana and its efficacy as a virtual assistant. On the other hand, it was once found to be the most popular AI assistant in the professional sphere. As a result, it seems the consequences for this is to be moved deeper into the Windows operating system, rather than at its forefront as the desktop assistant and search runner.
This putative move could also see the (often perceived as irritating) assistant character popularly linked with MS Office finally and conclusively replaced. In other words, Cortana may have to learn more about Clippy and what it does than it may ever have wished to.