MWC 2018 | Lenovo showcases Yoga 730 2-in-1 with Cortana/Alexa assistants and Flex 14 notebook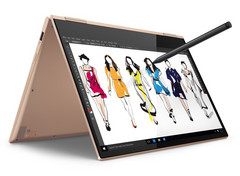 The showcased models did not feature full integration with Alexa, as the vocal commands only prompt on screen answers instead of voiced answers, but the final products should fix this. Spec-wise, the Yoga 730 impresses with high-end features that can easily rival a gaming laptop, while the Flex 14 is more of a mid-range solution.
Apple was first to introduce a voice-activated assistant in its mobile products back in 2011 with Siri, and the concept quickly expanded to other devices like PCs (Cortana on Windows 10) and even smart speakers (Amazon's Alexa). At MWC 2018, Lenovo is now the first OEM to showcase both Cortana and Alexa in its upcoming high-end Windows 10 Yoga 730 notebooks.

The first thing that becomes immediately apparent with the Yoga 730 is the slimmer and lighter aluminum casing. In this respect, the 13-inch version weighs in at just 2.46 lbs, while the 15-inch model adds 1.5 more lbs. Being part of the Yoga family, the new models integrate the 2-in-1 convertible design, which allows users to easily switch from notebook to tablet mode.

The 15-inch model features quite a few impressive specs for a 2-in-1, making it a decent gaming solution:
• 4K IPS touchscreen display
• 8th gen Intel Core i7 CPUs
• optional Nvidia GTX 1050 GPU
• up to 16 GB RAM
• up to 1 TB SSD storage
• JBL stereo speakers with Dolby Atmos support
• Fingerprint sensor
• USB 3.0, USB Type-C and HDMI ports
• Cortana and Alexa supported through dual far-field mics
• ~11 hours battery life

The 13-inch model does not come with discrete GPUs and only supports up to 512 GB SSD storage. For the moment, the models showcased at MWC 2018 only display the requested information on screen when Alexa are activated, but Lenovo claims that the final versions will allow Alexa to voice its answers.

Lenovo also announced the Yoga 530, which will be known as Flex 14 in the US. This one comes with a 14-inch FHD IPS screen, 8th gen Intel Core i7 CPUs, GeForce MX130 GPUs, up to 16 GB of RAM and up to 512 GB SSD storage, while total weight is 3.25 lbs.

Both notebooks will begin shipping in April. The 13-inch Yoga 730 will be available for as low as US$879.99, whereas the prices for the 15-inch version will start at US$899.99. The Flex 14 features a more affordable starting MSRP of US$599.99.