We've reviewed quite a few keyboards over the past year including up to the recent Cooler Master SK622. Unfortunately, that particular Cooler Master model left a sour taste in our mouth with its tilting corners, spongy Enter key, stuck LED indicators, and a recessed USB-C port that made it difficult for thicker USB-C cables to fully engage. Thankfully, the larger SK653 addresses many of these drawbacks. Amazon is currently selling the unit for $149 USD with a two-year manufacturer warranty. The non-wireless SK652 is also available for a lower price.
Cooler Master sent us an SK653 test unit for our impressions and we can safely say that this model has quickly become one of our favorite low-profile mechanical keyboards thus far. It's surprisingly lightweight for a full-size (100 percent) mechanical keyboard at just 723 g compared to 862 g for the Razer Huntsman. The noticeable weight difference had us concerned about the feedback of the keys and the build quality of the underlying keyboard deck, but both are thankfully excellent in terms of uniformity and rigidity.
| Switch Type | TTC Low Profile Mechanical Switch (Red/Blue/Brown) |
| --- | --- |
| Keyboard Material | Aluminum and Plastic |
| Color options | Gray or White |
| Polling Rate | 1000 Hz (wired), 125 Hz (Bluetooth) |
| Response Rate | 1 ms |
| On-Board Memory | Yes |
| Wireless | Bluetooth 4.0 |
| Battery | 4000 mAh (2000 x2) |
| Compatible OS | Windows 8+, Mac OS X 10.10+, Android, iOS |
| Connector | USB-C receptacle |
| Dimensions | 430 x 125 x 25 mm |
Users will have to install the Cooler Master MasterPlus software to exploit most features of the keyboard. The software is a bit bloated especially when compared to the simpler and more straightforward software from Rosewill, but its options are useful nonetheless. There are around 20 different preset LED cycles to choose from and even a 90-degree color rotation feature for certain patterns that most other per-key RGB keyboards lack. We particularly like the separate brightness toggles for wired and wireless in case if users want to extend battery life by limiting the brightness in Bluetooth mode.
Speaking of Bluetooth, the keyboard can save up to three different devices and then cycle between them much like on the Vissles V84. Polling rate drops significantly, however, meaning you might want to stick to wired mode when playing games for the fastest response times. It also uses Bluetooth 4.0 instead of the newer, longer-range, and more power-efficient Bluetooth 5 standard for wireless.

Our main gripes with the keyboard are mainly superficial regarding the lighting. More specifically, the Caps Lock LED indicator for charging is always on and it cannot be customized unlike the rest of the keyboard. As a result, it's visually irking to have a stuck LED when the rest of the keyboard is cycling through a pattern of colors. The smaller SK622 has the exact same problem.
Related to the Caps Lock LED indicator are the three LED indicators near the top right corner for Num Lock, Caps Lock, and Scroll Lock. These three LEDs share the same settings as the rest of the keyboard and so any brightness or color changes will reflect on these lights as well. The problem occurs when the brightness is tuned very low to the point where the three LED indicators become too dim to be any useful. It's strange that there are no options to isolate these specific LED indicators from the brightness settings on the rest of the keyboard.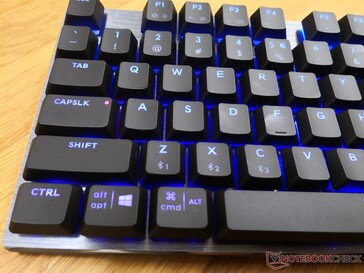 The minor complains don't detract from the fact that the SK653 is a sleek and relatively quiet low-profile mechanical keyboard that's comfortable to use, easy to connect and easy to clean. The SK653 checks more than enough boxes to make it worth considering despite the somewhat pricey MSRP.
After graduating with a B.S. in environmental hydrodynamics from the University of California, I studied reactor physics to become licensed by the U.S. NRC to operate nuclear reactors. There's a striking level of appreciation you gain for everyday consumer electronics after working with modern nuclear reactivity systems astonishingly powered by computers from the 80s. When I'm not managing day-to-day activities and US review articles on Notebookcheck, you can catch me following the eSports scene and the latest gaming news.