Consumer NVIDIA GPUs cannot be used in datacenters henceforth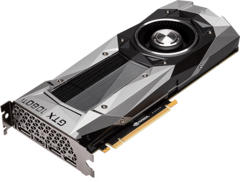 Recent changes to NVIDIA's EULA prohibits datacenter deployment of their consumer grade GeForce GPUs apart from those used for blockchain processing. This being seen as a move to curb deployment of cost-effective GeForce GPUs for half-precision Deep Neural Network processing.
Working For Notebookcheck
Are you a techie who knows how to write? Then join our Team! Especially English native speakers welcome!
Currently wanted:
News and Editorial Editor - Details here

NVIDIA has made some changes to its End-User License Agreement (EULA), which effectively restricts the use of consumer grade GeForce GPUs in datacenters for AI and Deep Learning applications. Henceforth datacenters, especially those engaged in Artificial Intelligence (AI) and Deep Learning applications, will be required to switch to the Quadro or Tesla offerings.
NVIDIA GPUs are well known for their half-precision strength and deep neural net (DNN) processing, which made deploying GeForce GPUs a cost-effective option for datacenters. The new move could put datacenters that have already deployed GeForce GPUs in a lurch. It is understandable, though. NVIDIA has spent a lot of resources in developing its DNN processing technology in professional GPUs and if datacenters don't use them, it could have a significant impact on its profits. At the same time, the prices of GeForce GPUs cannot be increased considering the risk of losing competitive advantage. Therefore, forcing datacenters to use the Quadros and Teslas is the only way to increase their adoption without affecting the GeForce lineup.
While NVIDIA considers any non-personal use as datacenter use, a reprieve is that blockchain processing datacenters are exempted from this EULA change. This is could be probably because NVIDIA is not interested in optimizing GPUs for mining right now. Datacenters that violate this rule could attract lawsuits from the company. It remains to be seen how datacenters adapt to this change and whether publicly funded datacenters in universities and research institutions also come under its purview.