Canon announced EOS-1DX Mk III pro DSLR camera: 4K60p, 16fps burst shots, and more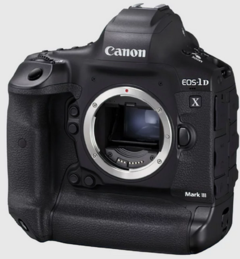 Canon announced the EOS-1D X Mark III, the latest and greatest flagship DSLR from the Japanese camera colossus. The 1D X Mark III is the best of Canon's crop, boasting 16 fps bursts for five times longer than the 1D X Mark II, 4K video at 60 fps, and support for the new HEIF image format. No word yet on pricing or availability.
Canon is now developing the next iteration of its professional-level EOS-1D X line of DSLR cameras. The EOS-1D X Mark III looks to bring major improvements over the already impressive EOS-1D X Mark II, including improved video, a higher buffer rate, and support for a new image format.
The EOS-1D X Mark III is a full-frame DSLR targeted at professional wildlife and sports photographers. The camera can snap photos at 16 fps with autofocus via its mechanical shutter (through the viewfinder) and up to 20 fps in live view mode.
Photographers should be able to sustain those bursts for quite a while thanks to the dual CFexpress cards; the standard can hit transfer rates up to 1600 MB/s, and Canon claims the 1D X Mark III's buffer size is five times larger than that of the 1D X Mark II. The Mark II can sustain a 16 fps burst for about 10 seconds before the buffer fills up (for RAW photos), so the Mark III may well be able to hit 40-50 seconds of continuous high-speed shooting.
Canon also said the EOS-1D X Mark III will support a new image format. Dubbed HEIF for "high-efficiency image file), the new format is a middle road between JPEG and RAW. HEIF pictures have a smaller file size than RAW but offer a wider dynamic range and larger color palette than JPEG.
The EOS-1D X Mark III will be a capable video camera as well. Canon says the DSLR will support 10-bit 4:2:2 video at up to 4K/60p. Keep in mind the Mark II has a slight crop factor to 4K video; Canon did not disclose whether the Mark III will have a crop factor in 4K video.
Canon also didn't reveal pricing, availability, or sensor resolution. It's unlikely to be cheap, though; the body of the EOS-1D X Mark II still retails for US $5500 on Amazon, despite being almost 4 years old.