BlackBerry: 4 New Smartphones in H2 2013?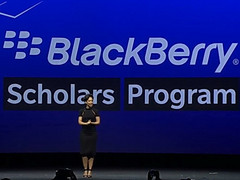 The Canadian smartphone manufacturer BlackBerry (formerly Research in Motion) is allegedly preparing to launch as many as four new mobile phones in the second half of 2013. The entry-level BlackBerry Q5 is intended for emerging markets and should reach the market in July.
According to Taiwanese tech site DigiTimes, the ailing Canadian smartphone manufacturer is planning to release several new models in the fall of 2013. The report states that BlackBerry has extended order visibility to 2-3 quarters instead of just one quarter, as the manufacturer plans to launch as many as four new models later this year.
The BlackBerry Q5 was unveiled earlier at the BlackBerry Live event. It is a 3.2-inch touchscreen phone with a classic BlackBerry qwerty keyboard and the operating system BlackBerry 10 (BB10). The Q5 will be available in red, pink, black and white, in Europe, Asia, Africa and the Middle East, with a launch date in July.
Industry observers believe that the Canadian manufacturer is experiencing a surge in demand for smartphones running BB10, the BlackBerry Z10 and Q10. This also benefits third-party ODMs and suppliers such as Wistron, Silitech Technology and Ichia Technologies. According to DigiTimes, Wistron currently has orders for two additional BlackBerry smartphones in the entry-level segment.