BLU phones back on Amazon following privacy fears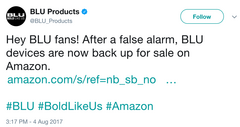 After privacy concerns caused Amazon to delist some phones by budget smartphone manufacturer BLU, the products are once again available through the online retailer. Although BLU has denied allegations of any wrongdoing, privacy issues with budget Android phones may remain a concern.
Phone manufacturer BLU (short for Bold Like Us) is known for selling some of the cheapest Android phones on the market. Despite their low cost, though, BLU phones typically offer a decent experience that belies their low cost. Earlier this week, however, the Florida-based company was accused of selling some devices with spyware baked into the system kernel. Due to these claims, Amazon immediately pulled certain BLU products from their retail site. After what seems like a short vetting process, the accused devices are once again available on Amazon.
On Monday, BLU responded to the allegations that some of their smartphones were infringing on user privacy by sending text, call, and web browsing information to foreign servers. Claiming that the reports were "inaccurate and false," BLU has since decided to switch from the ADUPS OTA application they were using to Google's own GOTA, which should make the phones more secure in the future. In the response, however, BLU didn't deny that information was being stored on servers in other countries, namely China. Rather, the manufacturer asserted that their privacy policy allows for user information to be sent to Chinese servers and that these servers should be considered secure as larger smartphone companies, like Huawei and ZTE, rely on servers in the country almost exclusively. Despite this response, Amazon took several BLU devices off of their retail site.
In a tweet posted Friday, BLU announced that their phones would be back up on Amazon following what they called a "false alarm." So for those consumers hoping to score a decent smartphone on the cheap, BLU may once again be a viable option. Keep in mind, though, that BLU does reserve the right to collect and store user data (as most smartphone providers do).