Apple iPhone 7 Plus
Specifications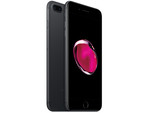 Pricecompare
price: 71%, performance: 93%, features: 87%, display: 90% mobility: 84%, workmanship: 84%, ergonomy: 84%, emissions: 94%
Reviews for the Apple iPhone 7 Plus
Foreign Reviews
Comment
Model:
Hands-on article by Jagadisa Rajarathnam
The Apple iPhone 7 Plus is the latest Apple smartphone and was released in September 2016. Apple smartphones are known to be high-end with high performing hardware specifications and the iPhone 7 Plus is no exception. Since it is IP67 certified, it is quite tough and dust and water resistant – the first for any Apple device. Compared to the Samsung Galaxy S7 released recently, which is IP68 certified, they are both equally dust resistant. The only difference between them is that the Apple iPhone 7 Plus can be underwater in a depth of up to 1 m for 30 minutes, while the Samsung Galaxy S7 can be underwater in a depth of up to 1.5 m for 30 minutes. However, it is not recommended to use the IP6x certified smartphones submerged because water resistance is not a permanent condition. The Apple iPhone 7 Plus measures at 158.2 x 77.9 x 7.3 mm (6.23 x 3.07 x 0.29 in) and weighs at 188 g (6.63 oz). It looks pretty much the same as the older iPhone 6s Plus, but the antenna lines has moved from the centre to the top and bottom parts of the back side. The camera bump is also slightly different to fit that dual camera setup. It is a 5.5-inch screen display smartphone with approximately 66.7% screen-to-body ratio, while the iPhone 6 Plus had a screen-to-body ratio of 67.8%.
The display built on the iPhone 7 Plus is a 5.5-inch Retina display with 16M colors and a resolution of 1080 x 1920 pixels. An ion-strengthened glass with an oleophobic coating provides a certain level of finger smudge resistance. As for hardware specification, the iPhone 7 Plus features a 2.23 GHz quad core processor on Apple's A10 Fusion chipset with 64-bit architecture, 3 GB RAM and an embedded M10 motion co-processor. The embedded motion co-processor collects and processes data from integrated sensors such as accelerometer, gyrometer, proximity sensor, barometer, and compass, which eases the load of the main processor. It is one of the Apple customized parts only available on smartphones and tablets released by Apple. For the operating system, it runs on iOS 10.0.1 and is upgradable to iOS 10.0.2.
Since the memory storage of the smartphone is not upgradable, Apple provides smartphones with different storage sizes ranging from 32 GB, 128 GB, and 256 GB. A 32 GB version of the iPhone 7 Plus would be sufficient for normal usage. This is an improvement from the iPhone 6 Plus with a smallest storage capacity of 16 GB, which is often insufficient. However, some reports have claimed that the 32 GB memory module on the iPhone is significantly slower than the 128 GB and 256 GB module. The iPhone 7 Plus has dual 12-MP cameras with a f/1.8 aperture on wide-angle and f/2.8 aperture on telephoto. It features optical zoom at 2x and digital zoom up to 10x. The camera is packed with features such as geo-tagging, optical image stabilization, touch focus, face/smile detection, HDR mode, quad-LED true tone flash and panorama up to 63 MP. It supports 4K video recording at 30 fps with 8-MP image capturing simultaneously. The battery of the iPhone 7 Plus is a non-removable Li-ion 2900 mAh battery, which is capable of delivering up to 384 hours stand-by, 21 hours talk time and 60 hours music play. Additional features include Siri natural commands and dictation and iCloud cloud storage service.
Press review by Capuchino Saber
The iPhone 7 released in September 2016 is considered one of the most expected phones all over the world. As one of the leaders in the smartphone market by making new technical trends, Apple conquered most customers with products which are appreciated with extremely high satisfaction. And, the iPhone 7 Plus is not an exception. Following most reviews from numerous pages, it is supposed please many users with improvements, such as: a dual-camera, new color configuration, more space for media and apps, longer battery life. Nevertheless, some small troubles exist.
1. Design
According to the page PhoneArena, both the iPhone 7 Plus and the iPhone 6s Plus share a lot of design elements in general, but the differences are arguably easy to spot. By far the most prominent change is the new camera bump on the handset's rear. Although there is a slight drop in weight, from 192 g to 188 g (measuring 158.2 x 77.9 x 7.3 mm) following a review from page Tech Radar, the iPhone 7 Plus phablet has the same size as the 6s Plus that it is replacing. This page also remarked about the new feature which causes much less controversial: Being IP67 certified, the iPhone 7 Plus is both dust-proof and water-resistant. However, the page Phone Arena also advises users in case they want to take the phone with them into the pool, the manufacturer announced a warning that the protection may decrease over time and absolves itself for any duties to perform warranty service related to water damage. Beside 3 familiar colours: gold, silver and rose as usual, Apple added 2 new black shades: a low-key matte black and a glossy jet black. In my opinion, the iPhone 7 Plus looks exactly like the 6s Plus if you put the 7 Plus in a case and it is hard to distinguish them from far away. There is no significant difference in the design.
2. Display
According to page GSM Arena, the Apple iPhone 7 Plus phablet still has the same specifications in terms of size and resolution: a 5.5 -inch unit with a 1080 x 1920 pixel resolution and a pixel densitiy of 401 ppi. It features a LED-backlit IPS LCD screen with RGB matrix. However, the panel has been updated since the 6s Plus and 3D-Touch enabled. According to Phone Arena's display measurements, the iPhone 7 Plus's screen is brighter than Apple's specification. A maximum brightness north of 670 nits is excellent. Although size and resolution remained unchanged, Apple is delivering the same sorts of brightness and color enhancements as in the iPhone 7 according to a review from Phone Arena, while Tech Radar reports that the phone's display is just slightly differnt: "There are more colours, so things look even better" and "apparently 25% brighter although it is not particularly noticeable". Moreover, according to The Verge's evaluation, the display is not as insane as the 2K or 4K OLED panels, which had been popping up on high-end Android phones, but it is a sharp, bright and beautiful LCD, which is great to look at. In my view, the 7 Plus still has a beautiful and pleasing display with a wider range of colors now.
3. Hardware
This phone is powered by new generation A10 Fusion chip, which featues a quad-core CPU with two high-performance cores running at 2.4 GHz and two power-saving ones. About the performance in general: "The iPhone 7 Plus is fast. Really fast. In a simple side by side comparison to iPhone 6s Plus, the 7 Plus is faster every time as we skipped between applications, fired-up multi-tasking and loaded games", said the Tech Radar. According to GSM Arena, the high-performance cores run about 40% faster than the A9 generation and two-times faster than the A8 generation, while the new six-core GPU inside is 50% faster than the A9's GPU. Also, Tech Radar has a great comment: "The 7 Plus performance is just all-around impressive!". Nevertheless, if your purposes are just social networks, checking emails, web surfing, The Verge supposes that the iPhone 7 Plus has not been really all that much faster than the A9 chip in the 6s Plus. According to Phone Arena, the iPhone 7 Plus was benchmarked by the AnTuTu with 179811, which was considered the best benchmark of the mobile world at the time of this review. It beats all other high-end Android phones like the Samsung Galaxy S7 Edge or the LG G5 (as of November 2016). This phone also comes with 3 GB RAM instead of 2 GB RAM in iPhone 7. Eventually, we have to say that this is the beast in mobile performance at the moment.
4. Software overview
Running iOS 10, which redefined the lock and home screen, the notification and the control centers, the 3D touch experience, Siri and improved system applications, the Apple iPhone 7 Plus was upgraded drastically. According GSM Arena, messages were overhauled, stickers and new text effects, emoji galore and even a handwriting mode added. As an evaluation from GSM Arena about the software, "Apple has done a good job refining the interface and there are enough new features to enhance the user experience without complicating it. It is definitely moving forward". Besides, The Verge seriously says that this has been the nicest iOS update in a long time, with a clear sense of how you should flow between operations and a much more inviting visual design. However, Tech Radar has stated: "Except those updates, everything is pretty much the same, and while you'll certainly feel at home on the iPhone 7 Plus if you're upgrading on the previous iPhone, the on-screen experience may not feel quite as new and exciting as you would hope". Excluding that, iOS 10 is worth upgrading in any way.
5. Battery life, Home Button and Connectivity
This phablet is equipped with a non-removable Lithium-Polymer battery rated at 2900 mAh, which is 5.5% beefier than the iPhone 6s Plus's. Thanks to a new energy efficient Apple A10 Fusion chip, the 7 Plus should offer a longer battery life than before. GSM Arena points out, "It can do about 18 hours of 3G calls, 13.5 hours of web browsing on a single charge and video watching for 8 hours. The standby endurance turned out way above average (13 days) and thus the very good endurance rating of 75 hours isn't a surprise". As for Tech Radar, this phone is considered to "comfortably lasts a full day on a single charge and it still requires a nightly charge to see you through a second day". "Under heavier load, I get the sense that the battery life will be like the 6s models', but those extra hours that Apple has promised will be meaningful for those desperate moments on the way home from work", confirmed The Verge.
The Home button is the significant highlight in the iPhone 7 Plus, which is more different than you might think as it no longer moves at all, it is totally solid, as remarked by The Verge. Introducing the Taptic Engine, which provides vibration whenever you click on the Home button, The Verge has come with a conclusion about this: "It feels like the entire bottom of the phone is clicking". And the Taptic Engine also provides feedback whenever you drop the notification down so that the phone will have a little bump. Furthermore, you can set the press feedback vibration in 3 levels, and it may take users some time to get used to this new button. Notwithstanding, GSM Arena showed a different view: "What's worse here is the whole button does not work if you wearing gloves and the feedback is almost non-existent when you lay the phone down on a flat surface". But in general, the Home button and the Taptic Engine work as well as Apple has advertised and it gives the perfect feedback, but users might need time getting used to it.
In terms of connectivity, the iPhone 7 Plus no longer features a 3.5mm audio jack. Instead of the normal audio jack, Apple uses the lightning as a 3-in-1 port - one port only for three functions including charging, connecting and listening although charging is not faster as well. This seems a good signal for most technicians appreciate this improvement. GSM Arena thinks, "The bottom is less crowded than before because of the missing audio jack" or Phone Arena says, "Broad network compatibility gets even better with higher-speed support". In addition, Apple has delivered a respectable upgrade, increasing the phone's theoretical maximum LTE Advance Bandwidth from 300 to 450Mps. However, The Verge reports, "It is disappointing that Apple did not put more work into making the wireless audio a better overall experience on the iPhone 7 Plus".
6. Camera
Coming with dual-camera, the standard 12 MP camera with 1.8 focal length lens and 12 MP sensor with a whole new telephoto lens, Apple aims at portrait shooters (56 mm and 2.8 focal length lens) with Optical Image Stabilization (OIS), a new four-colour True-Tone Flash and a wider color capture. The front camera also receives an upgrade from 5 MP to 7 MP FaceTime. By providing better image quality under low-light condition, this camera allows user to zoom from 2x to 20x beside the exclusive portrait mode added for the iPhone 7 Plus (available for iOS from 10.1). This camera in the 7 Plus is actually appreciated highly, for instance, according to GSM Arena: "The camera is blazing fast. There is no pausing for loading or saving even when taking bursts of photos (even a hundred images or more)", or according to Tech Radar, the phone has the "excellent point-and-shoot dual cameras, with much improved low-light performance and depth-of-field feature coming later in 2016".
In a camera test, Phone Arena evaluates the image quality and says, "With the combination of OIS and the faster shutter speeds that an f/1.8 aperture affords, it is easier than ever to snap clean, sharp pics that are free of unwanted motion blur". In addition, this page also had a positive remark about the optical zoom of iPhone 7 Plus: "It sure opens an exciting chapter in that story. Spend enough time with camera on iPhone 7 Plus and you may find yourself unable to go back to iPhone 7 camera". And GSM Arena comments, "Without a doubt this one of the finest front-facing cameras out there". Furthermore, the video recording capability of this phone allows users to record 4K videos at 30 fps and Full HD videos at 30 fps and 60 fps. Slow-Motion videos can be recorded with 1080p resolution at 120 fps or with 720p resolution at 240 fps. For this function, GSM Arena says "The 1080p videos at 30 and 60 fps are among the best we've seen, well stabilized again, with great amount of detail, find colors, a steady framerate and superb dynamic range". As a small conclusion for this section, I completely agree with a review from The Verge: "The iPhone camera is likely the best camera most people will ever own".
Verdict
In conclusion, the iPhone 7 Plus is great, but not really excellent as expected. Honestly, this phone has no considerable change in the appearance or the designs as well, according to GSM Arena. However, there are many outstanding improvements from Apple for this phablet, including: water resistance, great display, better battery life, the good Taptic Engine, and the improvement of the cameras (dual cameras). The A10 Fusion chip also plays an important role for this phone to become one of the most powerful phones this year in the phablet range due to its powerful performance. Moreover, there are still some disadvantages existing in the 7 Plus, such as: inconvenience caused by the lack of a headphone jack, the easy scratches on Jet Black color or the immature wireless audio ecosystem. The dual camera features has not yet finished (updated November 2016). Last but not least, the price of this phone is also an issue: In my opinion, the price is unreasonable considering the value for the user as there are not many significant improvements in this product.
Imagination A10 Fusion GPU: Multicore graphics card included in the Apple A10 Fusion SoC that can be found in the Apple iPhone 7 and 7 Plus smartphones. Most likely based on PowerVR technology and according to apple 40% faster than the A9 while using only 2/3 of the power.
Non demanding games should be playable with these graphics cards.
» Further information can be found in our Comparison of Mobile Graphics Cards and the corresponding Benchmark List.
A10 Fusion: System on a chip (SoC) from Apple that is built into the iPhone 7 and iPhone 7 Plus. It integrates four 64 Bit cores that are divided in two clusters. Two high performance cores that should be around 40% faster than the A9 (according to Apple) and two low power cores (that need only 1/5 th of the energy in some use cases). Up to now its unclear if all four cores can be used at once.» Further information can be found in our Comparison of Mobile Processsors.
5.50":
It is a very small display format for smartphones. You should by no means be mis-sighted and you will generally see very little on the screen and only have a small resolution available. In return, the device should be very small and handy.
» To find out how fine a display is, see our
DPI List
.
Apple: Apple is a US company founded in 1976 by Steve Jobs, Steve Wozniak and Ronald Wayne. Headquartered in Cupertino, California, the company is known for its innovative products such as the iPhone, iPad, Mac, and Apple Watch, and manufactures computers and consumer electronics as well as operating systems and application software. Apple is also a leading provider of software and services such as the App Store, iTunes and iCloud.
Apple has earned a reputation as a company that focuses on design and ease of use. As for their notebooks, they are mostly in the high-priced segment, have their own operating system, but also run Windows on the newer Macbooks.
Apple is one of the most valuable companies in the world and has a loyal following of customers and fans. The company also has a strong presence in the entertainment industry, with services like Apple Music and Apple TV+. In 2023, Apple had an approximate 8% market share of global PC sales, ranking it 4th after Lenovo, HP, and Dell.
86.94%: This is an above-average rating. Nevertheless, it should not be forgotten that about one fifth of all tested models receive a better rating.
» Further information can be found in our Notebook Purchase Guide.