Apple Watch: Doctor sues Apple for violating atrial fibrillation patent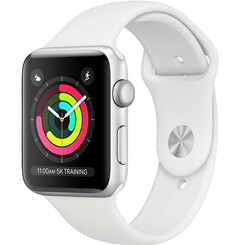 A lawsuit was recently filed against Apple, claiming that the company engaged in willful patent violation. The issue at hand is that the Apple Watch Series 3 allegedly violates a patent filed by Dr. Joseph Wiesel with regards to atrial fibrillation detection technology.
The Apple Watch Series 3 arrived in 2017 with several under-the-hood improvements. A key selling point was that the Watch Series 3's optical sensor could be used to detect an irregular heartbeat, otherwise known as atrial fibrillation. While the Apple Watch has saved lives through prompt heart attack detection, the underlying technology is now at the center of a patent contest.
Back in 2006, Dr. Joseph Wiesel patented technology to detect atrial fibrillation. His patent (No. 7,020,514) is for a "method of and apparatus for detecting atrial fibrillation" Dr. Wiesel notified Apple about the patent shortly before the rollout of the Watch Series 3. He provided Apple with a detailed claim and pointed out how different elements of the Apple Watch Series 3's tech mapped to his patent.
Although the patent doesn't explicitly talk about a smartwatch, it references devices attached to body parts. The patent also talks about a microprocessor that will keep a record of and interpret the data the sensors provide, essentially what the Apple Watch does.
According to Dr. Wiesel, Cupertino wasn't willing to negotiate in good faith. He is now seeking royalties, legal fees, and the recovery of past damages since he alleges that Apple's infringement is "willful, intentional and deliberate." Since the patent was filed significantly before the product, the legal contest has the potential to create problems for Apple